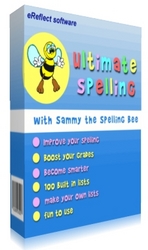 Los Angeles, CA (PRWEB) October 4, 2010
Marc Slater- Director of eReflect Software dismisses claims that spelling bees put too much stress on children as "unscientific". E-Reflect's official position is that they will continue to promote pracrtices that encourage spelling improvement.
A recent spelling bee in South East News South Wales, Australia has sparked controversy around the world. Held in September, the spelling bee itself went relatively smoothly. Of course, there was the normal mix of ecstatic winners and disappointed losers but it was an ill chosen quote made by the principal of one of the participating schools that sparked outrage.
Therese Aston, the principal of Bodalla Public School has widely been reported as declaring the following: "It's really good, there's a little bit of stress involved, but stress is good. A little bit of nerves is good for kids, and life is not stress free. It's good to get them out there and experiencing that at an early age."
Critics have pointed out that this particular quote highlights everything that is wrong with spelling bees. Instead of simply encouraging individual students to improve their spelling ability in their own time, the nature of the competition in fact puts too much stress on children and can indeed make them feel like a failure should they ultimately fall at one of the competition hurdles.
Furthermore, the quote seemingly points to the fact that teachers not only encourage but also endorse putting such huge amounts of pressure on their students at such an early age. Whilst it is true that life is not stress free, should children as young as 8 really be forced to endure such stress and give up what should be the innocence of their childhood simply to learn about stress management from an early age?
That is not to say that spelling bees cannot be useful tools to help aid children learning to spell from an early age. They can actually encourage children to learn the etymology of a word that often proves to be problematic to a given age group and can also provide a means of teaching more advanced spelling that goes above and beyond what is expected of an age group.
As such, there is one major question that needs to be asked of the spelling bee. Is it really the spelling bee that puts too much stress on kids today or is it the nature of the competition and the adults that stand behind students?
Ask any critic about the spelling bee and they will respond that children should learn at their own pace and have a childhood rather than having to face the same level of stresses and strains that adults have to cope with on a regular basis in a competitive environment. Ask any advocate and they will argue that spelling bee contestants often go on to greater academic successes than their non-spelling bee peers in addition to becoming well rounded adults.
Whether spelling bees put too much stress on children or the competitive nature of the challenge develops more educationally advanced and mentally balanced children that are better equipped for the adult world remains a mystery.
Marc Slater, Director of eReflect Software – makers of Ultimate Spelling Software – says:
"What is clear in this debate, though, is that critics and advocates of spelling bees will stand opposed for quite some time to come as there is no clear scientific proof to lend credibility to either side of the argument. We think spelling bees have a positive effect on Children and we will continue to support them accordingly"
###