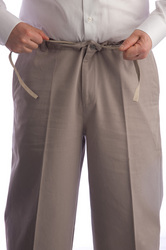 (PRWEB) October 5, 2010
Veggies® (http://www.veggieswear.com/), the most comfortable pants in the universe™, are now available in Hemp & Company stores, Veggies CEO Mark Rosal announced today. "We're proud to partner with a company that shares our commitment to a healthy planet," says Rosal. "That commitment is one of the things that make Veggies and Hemp & Company a natural fit."
Passionate about his product, Rosal describes Veggies as "the most comfortable men's pants anywhere–a fusion of fashion and function." While on a backpacking trek through Mexico and Guatemala in the late 1970s, Rosal came up with the idea for pants that would be durable, practical, and super-comfortable for traveling. He found a seamstress to make the pants to his specifications, and he continued to improve on the design, wearing the custom pants through several renditions over the next 30 years.
Made of organic denim, Veggies (http://www.veggieswear.com/product_p/vegg_01.htm) feature a roomy cut and deep pockets, but what makes Veggies unique is the internal drawstring waist, which can be worn with or without a belt and adjusted for ultimate comfort, as well as the versatile design and appearance that make Veggies suitable for business or casual wear in any season. In Rosal's words, Veggies are "designed for men who are tired of the fashion game; men who want, first and foremost, a functional, flexible and—above all—comfortable pant. Veggies is unlike any other men's pant on the market today."
Rosal brought the pants to market via http://www.veggieswear.com in 2005, and today he's excited about exploring a new market channel. "I wanted to choose the perfect venue for Veggies' retail debut," he says, "and Hemp & Company stores are just what I had in mind.
"Our customers demand style and comfort in the clothes they buy, as well as sustainable materials and manufacturing practices and corporate responsibility from the businesses they patronize. Bringing Veggies into Hemp & Company stores allows us to reach like-minded men who prefer a traditional retail shopping experience," says Rosal. "At the same time, Veggies' partnership with Hemp & Company adds a certain synergy to the green goals of both companies."
Both Veggies and Hemp & Company are members of 1% for the Planet, an alliance of businesses that provide financial support to environmental organizations. "We contribute one percent of our sales to sponsor green initiatives in our local and global communities to protect our environment for generations to come," says Rosal.
To learn more, call 1-877-766-4401, or visit the Veggies website at http://www.veggieswear.com/about_a/21.htm for information on Veggies Lifetime Warranty, customer referral incentives, and more.
###