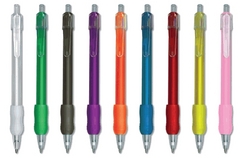 "We love the Carousel pen because it is available in so many different colors. Our hospital has an event almost every month and we can always get the right color pens to match the theme of our events." J. Kelly RSN
Hollywood, FL (PRWEB) October 4, 2010
Promotional company, Vendo Direct, Inc. reports that its newly released "Carousel Pen" has quickly become a number one selling cancer awareness pen, outpacing the sales of all other awareness pens.
Approximately 1.5 million Americans are diagnosed with different types of cancer every single year. Although many forms of cancer have become treatable and many patients' lives have been greatly extended, even by decades, approximately 575,000 Americans will succumb to this progressive disease every year.
"Cancer awareness isn't only about fighting the disease it's also about providing a quality of life so one may live with the disease. We are actively involved with our local breast center, helping to raise awareness and desperately needed funds" explained Mr. Klein, Vendo's direct marketing and fund raising manager."
"The fourth quarter is a very busy time of year for those of us who are involved with cancer awareness, as many groups are hosting their annual events. In the last 8 weeks, we've seen a 40% increase in demand for awareness products and a big surge of orders for our Carousel pen."
"When we first introduced the Carousel pen in January we new that it was going to be a special product because of its vibrant color selection. It is available with both a black or blue ink cartridge and features a soft ergonomic comfort gripper that matches the color of the pens barrel. It has an extra long 2" wide imprint area that will accommodate most logos and is best printed with up to 3 lines of custom printing. At first we were not exactly sure why this bright colorful pen had become so popular, until we started to analyze their imprints and we realized that this personalized pen had quickly out paced the sales of our other styles of awareness pens. In the months of September through November, events are hosted for children's cancer, ovarian cancer, breast cancer, lung cancer, as well as, sickle cell anemia and domestic violence; the Carousel pen has a color to represent each event."
"As a company who is actively involved with fundraising and the fight against cancer, we are really happy at the great reception to this pen. Our low minimum orders, of just 100 printed pens, allows many small organizations to purchase promotional items which have traditionally been out of reach for their small budgets. The great demand for so many different kinds of awareness items is quite astonishing. The amount of people who are in trouble is truly heart breaking. We hope that by providing an opportunity for every organization to get the exposure that they are looking for, more people will become aware of auto immune illnesses and get involved. A common misconception that people have is that "awareness" equates to "money", and that is not the case. It's about prevention, understanding and compassion. If you know you someone who can use your help, simply offer to provide them with the help and support that they may need. You'd be amazed how a simple gesture such as offering to cook them a hot dinner, or surprise them with some groceries, can really enrich another person's life. Every day will provide you with another opportunity to make a difference, it's up to us as individuals to reach out and seize that moment to become the difference in someone's life."
Vendo Direct, Inc. has been manufacturing personalized pens and promotional products since 1958. Their headquarters is in Hollywood, Florida and they have factories located across the United States.
###