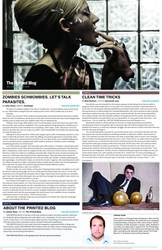 "We are thrilled to attract so many accomplished journalists to a brand new publishing model. I'm confident that they will select amazing stories and delight our readers, " says Joshua Karp, the founder and publisher of The Printed Blog.
Chicago (PRWEB) October 7, 2010
The Printed Blog is the world's only subscription-based, weekly, print magazine comprised entirely of blogs and other online content. The Printed Blog has pioneered a new model of print journalism, based on the great work of citizen journalists from around the world. The Printed Blog just released its "teaser" issue, which can be found attached to this release, or at The Printed Blog web site.
Articles found in The Printed Blog are selected by rotating Guest Editors. Today, The Printed Blog is pleased to announce a group of world class journalists who have joined to edit the first set of The Printed Blog issues.
Our Guest Managing Editor is Robbie Woliver, and our Guest Editors are Neal Bulton, Francesca Biller-Safran, Ari Costa, and Stuart Goldman.
"We are thrilled to attract so many accomplished journalists to a brand new publishing model. I'm confident that they will select amazing stories and delight our readers, " says Joshua Karp, the founder and publisher of The Printed Blog.
Robbie Woliver, Guest Editor, is a New York Times bestselling author who has had award-winning books published on a wide variety of subjects ranging from music history to Amy Fisher to children's health.
A recipient of the 2009 Casey Medal for Meritorious Journalism and numerous other awards for investigative reporting, music criticism, enterprise reporting, feature writing, health and educational reporting, public service, and editorial writing, Robbie was a writer for The New York Times, senior editor of the Village Voice's suburban edition, columnist at Newsday and editor in chief of the Long Island Press.
Neal Boulton, Guest Editor, is an American journalist who has worked with over 30 national newspapers, magazines, and online magazines as founder, Editor, or creative leader.
In 1998, Neal founded and taught the Role of Design in Journalism at the Columbia University School of Journalism. He has been the Art Director of LIFE, the Creative Director of Outside Magazine and he launched the Outdoors section of the Los Angeles Times. Prior to joining American Media, where he was Editor of Men's Fitness magazine, Neal was a part of Time Inc.'s launch & development team. Neal left Men's Fitness to pursue a book deal and to launch his own online magazine, BastardLife.com.
Under Neal's guidance, BastardLife.com grew to more than 1.2M hits per month, and become one of the most visited sex/intimacy sites on the web. Most recently, Neal started HerionLife.com, a web magazine dedicated to helping people overcome addictions.
He has appeared on the Today Show, The View, and Anderson Cooper 360, among many others.
Francesca Biller-Safran, Guest Editor, is an Award Winning Investigative Journalist, Political Satirist, Op Ed writer, Documentary reporter and Author who has written extensively for print and broadcast media about politics, popular culture, the economy, race relations, and interfaith issues.
Though she is best known for her hard-core investigative reporting for which she has received numerous awards including The Edward R. Murrow award, two Golden Mike's and four Society of Professional Journalism awards for Radio Documentaries and Investigative Hard News Reporting, she now focuses her talents on Humor, Political Satire, Essays and a forthcoming novel about World War II.
Ari Costa, Guest Editor, is an American Filmmaker living and working in Los Angeles. Upon graduating from Emerson College with his schools most prestigious award, the EVVY, for producing a BFA short film about George Bush's college years, he took a job working on, Falling Awake, an independent feature in New York City.
Upon completion of Falling Awake, Ari came back out to LA where he landed a job as coordinator in comedy development at NBC Universal Media Studios where he worked on shows such as 30 Rock, The Office, Parks and Recreation, Chuck, Community, and many others.
Ari is currently working with Emmy Award winning directors Joe and Anthony Russo of Arrested Development and Community fame. He is in pre-production on a short film taking place in Los Angeles and just recently sold a feature length version of the short film he produced while at Emerson College.
Stuart Goldman, Guest Editor, is a highly controversial journalist, author and screenwriter. A former critic for the Los Angeles Times and the Daily News, Goldman served as the Entertainment Editor at the L.A Weekly. He also penned an acid-tinged weekly column for the L.A. Reader which earned him the moniker, "the journalistic hitman."
Goldman prefers to think of himself as a muckraker rather than a journalist. His role model is H.L. Mencken, though his writing is often compared to the father of gonzo journalism—Dr. Hunter S. Thompson.
Goldman's pieces have appeared in National Review, Los Angeles Magazine, Penthouse, The San Francisco Chronicle, Paris Match and California Lawyer, amongst others.
# # #