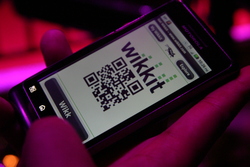 To build excitement for the free open bar promotion, Wikkit Girls will be working at the McFadden's booth during the Bite of Las Vegas at Desert Breeze Park
New York, NY (PRWEB) October 21, 2010
In connection with the launch of it's free Wikkit app for iPhones and Droids featuring 2D "quick response" barcode technology, Wikkit is partnering with McFadden's Las Vegas to provide paperless "tickets via text message" for an exclusive one hour open bar from 9-10pm for all local residents on Saturday, October 23rd.
Following the free bar promotion with Wikkit, ladies can get a 2 hour extension for just $10 and guys can drink til midnight for an extra $20.
To build excitement for the free open bar promotion, Wikkit Girls will be working at the McFadden's booth during the Bite of Las Vegas at Desert Breeze Park on Saturday afternoon to help interested customers register for their free wikkits. At McFadden's, customers simply have their cell phones scanned by staff members using Droids and iPhones provided by Wikkit.
Can't Make It To The Open Bar?
In addition to the free open bar, McFadden's is also offering a free drink wikkit that can be redeemed at any time on Saturday for anyone that can't make it to the bar between 9 and 10pm.
Wikkits for the McFadden's Las Vegas event are available now on Wikkit.
About Wikkit LLC:
Wikkit LLC is a privately held mobile ticketing company based in New York City. The company offers true ticketing democracy by allowing any band, bar, nightclub or venue to send fans tickets via text message and email. With the company's free iPhone and Droid app, any venue can quickly, easily and securely validate the tickets. Fans of Wikkit can follow the company on Twitter and join Wikkit's Facebook group and help design the company's "Wikkit Cricket" logo for a chance to win $250.
About McFaddens:
Whether it is the original McFadden's located on the corner of 42nd and 2nd Avenue in New York City, just minutes from Time Square, or the McFadden's located on the corner of State and Division in Chicago, McFadden's has come to be known as one of the nation's premier bar/restaurants. Our resident DJs and friendly and fun bar staff deliver an experience you will not soon forget!
McFadden's Las Vegas is the hottest new addition to the family. It is the perfect place to catch your favorite game, join your friends for a few drinks, plan your next event, or let loose with our resident DJ's and our fun bar staff. Located in the Masquerade Village at the Rio. Let's just say, we're not your grandfather's saloon!
###