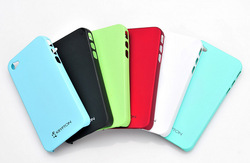 The iPhone 4 Color Wheel Case lineup provides customers with seven flashy, yet minimalist colors to choose from and aids in protecting the iPhone 4 without sacrificing functionality
Sacramento, CA (PRWEB) October 11, 2010
Up and coming mobile accessory company Krypton Products LLC has recently announced the release of its new iPhone 4 screen protectors and Color Wheel cases. The Screen Armor line protects the iPhone 4 display from nicks and scratches. The Color Wheel Case for iPhone 4 are sold in a variety of colors so users can accessorize their iPhone 4 to match their own style. The two product lines, which are both now available at kryptonproducts.com and Amazon.com, aim to reinvent iPhone 4 protection through sleek design, unique functionality, stylish designs, and best in class materials.
Made with three layers of tough scratch resistance, Krypton's Screen Armor line will not only provide users with added iPhone 4 screen protection, but will also allow for greater touch navigation to help users glide even more effortlessly from menu to menu. The Screen Armor line consists of the Ultra-Clear, Anti-Glare, and Mirror. The Screen Armor Ultra-Clear screen protector for iPhone 4 provides a clean, crystal clear surface so users can clearly see their screens. The Anti-Glare provides a matte surface that reduces glare without affecting visibility. The Screen Armor Mirror provides a mirrored surface when the iPhone 4 is locked or off. The Screen Armor Ultra-Clear, Anti-Glare, and Mirror for iPhone 4 are priced at $12.99, $14.99, and $19.99 respectively.
The iPhone 4 Color Wheel Case lineup provides customers with seven flashy, yet minimalist colors to choose from and aids in protecting the iPhone 4 without sacrificing functionality. The Color Wheel Case for iPhone 4 comes in Black, White, Cranberry, Mint, Baby Blue, Aqua, and Clear and is priced at $24.99
A dynamic, modern, carbon-free, and totally amazing company, Krypton is fundamentally aware of the fact that you love your gadgets. A California company, Krypton is committed to protecting your envied collection of technological marvels while ensuring style, function, and fashion are still fully addressed. Krypton maintains a sincere commitment to engaging meaningfully with its customers and utilizes various social media tools to do so:
Facebook - Krypton Products
Twitter - Mr_Krypton
Youtube - Misterkrypton
For more information about Krypton's Screen Armor and Color Wheel Case products for iPhone 4, please see videos at: http://www.kryptonproducts.com.
###