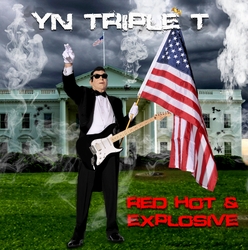 My team, including myself have taken new identities using double
Midlothian, TX (PRWEB) October 13, 2010
The countdown is on: yntriplet.com, the newest online resource for conservative Americans, is set to launch on September 28, 2010. The site, which will offer articles, music, video, an events calendar and a newsletter, has already garnered a considerable amount of fans through its Facebook page.
So what does YN Triple T mean? "Simply...it is an acronym. To what it says and means is up to you to find out," says site founder Jeff Pruitt. "Think about it in terms of our present government and solve the puzzle."
Pruitt says he wanted to design and launch a website that supported the beliefs and principles of the country's more politically conservative citizens, who he feels are being underserved in the current political climate.
"The outcry of millions of Americans, who believe in the principles set forth by our founding fathers in the Constitution, is being ignored," he said.
Yntriplet.com's creators were largely inspired by former President Ronald Reagan and his policies. The homepage, for example, features a Youtube clip of Reagan speaking about health care.
"The personification of YN Triple T is Ronald Reagan," says Pruitt. "My team, including myself have taken new identities using double "R"'s. I am now RR3. My producer is RR5 and so on."
Additionally, the site will offer T-shirts and other merchandise for sale. The site is also selling a political satire CD called "Red Hot & Explosive." There are tentative plans for a CD launch party on October 10 at the Fairmont Hotel in Dallas. Please check the site for updates.
For more information on the site's content and mission, please contact Jeff Pruitt (972-775-4433 or 817-692-3150) or visit http://www.yntriplet.com.
###