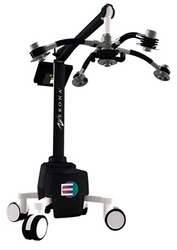 Zerona Lipo Laser Slimming is the new face of non invasive Antiaging & Aesthetic Medicine of future for your clinic. Make your patients lose inches by squeezing the fat out of the fat cells without destroying them and avoid future weight gain.
(PRWEB) October 16, 2010
Zerona is a low-level non invasive laser liposuction for body slimming that also emerges as an innovative weight loss program. Together with or independent of very low calorie VLCD Diet, HCG injections or other weight loss programs. It rotates around the waist, hips and thighs, forcing the fat cells to empty in a matter of weeks. There are no incisions, no downtime and no need for anesthesia. The fat is reabsorbed by the body through natural detoxification channel via liver and lymphatic system. But there is no substitute of eating right and healthy life style. This liposuction laser mechanism has to work hand in hand with lifestyle modification.
Good news is that Food and Drug Administration just cleared Zerona for "body slimming" in doctors' offices to reveal a thinner body with no incisions or needles. The Zerona is the first non-invasive aesthetic device to receive FDA market clearance for circumferential reduction of the waist, hips, and thighs.
The obesity epidemic continues unabated with no cure in sight. This is adversely affecting social harmony and economic productivity in developing as well as developed countries. Since obesity is mainly dependent on the size of the fat cell not just the number of fat cells .It is important to see the good side of the adipocytes too. Usually thought to be a poisonous inflammatory reservoir of fat and toxins the good side of adipocytes is missed or misinformed not only to the population but also the medical fraternity. Destroying the fat cells can be dangerous.
For long we have been trying to reveal the real mystery around adipocytes. Now fat cells are not just considered as inactive storage form for excess calories. We can consider adipose tissue as one of the largest endocrine gland in the body responsible for release of multiple hormones and sending signals to target tissues all over the body to regulate fatty acid metabolism, growth, puberty, healing, temperature control, disease-fighting ,aging and hunger mechanism. More than 20 hormones, both orexigenic and anorexigenic, have been identified. After crossing the blood-brain barrier, they reach their main site of action located in several hypothalamic areas and interact to balance satiety and hunger. One of the most significant advances in this matter has been the discovery of Leptin. This hormone plays fundamental roles in the control of appetite and in regulating energy expenditure.
The metabolism of adipocytes and gastric epithelial cells is closely linked to food intake and energy storage. The coordinated secretion of adipose and gastric leptins ensures proper management of food processing and energy storage. Leptin also regulates the activities of enzymes involved in lipid metabolism, e.g., AMP-activated protein kinase and stearoyl-CoA desaturase-1, and also interacts with insulin signaling in the brain. Low levels of leptin indicating food deprivation and depleted fat stores have been identified as the strongest signals to induce adaptive biological actions such as increased energy intake and reduced energy expenditure. The fall in leptin during fasting mediates hyperphagia and suppresses thermogenesis, thyroid and reproductive hormones, and immune system. On the other hand, rising leptin levels in the fed state stimulate fatty acid oxidation, decrease appetite, and limit weight gain. Because of this LEPTIN, is often known as the fat switch.
Similar changes can be observed when the adipocytes are damaged or destroyed by various invasive and non invasive slimming techniques. Most protocols for slimming and aesthetics involves destruction or removal of the adipocytes. This destruction of fat cells without diet control or exercise can stimulate the adipocytes elsewhere in body to get bigger and store more fat and ultimately non aesthetic results. Another danger is that losing fat cells may lower leptin levels and increase leptin resistance, signaling to the brain to eat more. In concert with other signals from the gut and metabolically active tissues, low leptin levels trigger powerful activation of multiple peripheral and brain systems to restore energy balance. It is not just neurons in the arcuate nucleus, but many other brain systems involved in finding potential food sources, smelling and tasting food, and learning to maximize rewarding effects of foods, that are affected by low leptin. Food restriction and fat depletion thus lead to a "hungry" brain, preoccupied with food.
Among multiple hormones that fat cells secrete another example is ADIPONECTIN, which helps manage metabolism. It enhances fatty acid oxidation and insulin sensitivity, in part by stimulating AMP-activated protein kinase phosphorylation and activity in liver and muscle. Moreover, Adiponectin decreases body fat by increasing energy expenditure and lipid catabolism. It is also known that Adiponectin release decreases when the fat cells are oversize. On the other hand oversize fat cells also become resistant to Leptin itself explaining why very obese individuals may have high leptin but are resistant to it,very similar to insulin resistance.
Ideally the best slimming & weight loss program to get maximum advantage from the endocrine fat cells is to shrink the fat cells without damaging them. This not only will increase leptin sensitivity but will also increase production of Adiponectin. This goal can be achieved by a non invasive protocol using low level laser liposuction which deflates/shrinks the fat cells without damaging the adipocytes and maintaining the endocrine function.
###