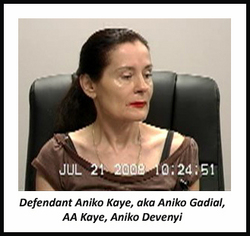 Aniko Kaye simply thought she was above the law. If a tenant complained, she would file a wrongful detainer action (she lost all 16). Finally a united group of tenants stood up to her and brought her to justice - Gregory G. Brown, Esq.
Irvine, CA (PRWEB) October 4, 2010
After 3 years of litigation, the "battle of Roxbury" resolves. The case involved a sixteen unit apartment complex. Plaintiffs alleged many problems ranging from violating rent control, to fraud, to breach of contract to breach of the warranty of habitability. The case first went to trial in the Los Angeles Superior Court, but was split into two separate phases (Case No: BC381214 lead / consolidated with BC382717, BC384500, BC388672, BC386060, BC387811, BC389385, and BC403026). The first phase was a two week Court trial where allegations of unfair business practices under Business & Professions Code Section 17200 were addressed before all other claims. In finding for the Plaintiffs, the trial judge noted on the record that Defendant Aniko Kaye's credibility "was zero". Kaye had testified over a two day period and, according to Irvine Trial Lawyer Gregory Brown, "her contradictions were so prevalent, it was hard to keep track. The impact was increased when video tape deposition testimony of outright contradictions was played in open Court."
After prevailing in the first phase, the Court set the second jury trial phase. After opening statement by Gregory G. Brown and initial trial witnesses, Defendant Kaye filed for bankruptcy protection (CASE NO. 2:09-bk-38287-BR -CHAPTER 11 proceeding). Shortly thereafter, the Bankruptcy Court granted leave from the automatic bankruptcy stay and ordered the case be transferred back to the Superior Court to resume trial (in front of the same Judge). Just before trial was set to resume, a settlement conference was set up and Defendant's prior $200,000 offer was increased to $1,600,000 to resolve all nine Plaintiff's claims.
FACTS: Plaintiff George Sharp ,Was a tenant in an apartment building owned by defendant Aniko Kaye, located at 484 South Roxbury Drive, beginning in July 2004. Sharp, along with nine other tenants, filed suit against Kaye, alleging they had been living in substandard housing ,with damp living conditions, plumbing issues, heating problems, as well as air conditioning and security issues, lack of lighting, insects, odors, drinking water contamination, and intentional exposure to asbestos fibers and lead paint.
PLAINTIFF CONTENTIONS: The tenants contended that, if they complained, Kaye would retaliate against them by filing eviction actions, making false reports about pet abandonment, and filing false police reports, in order to harass them. The tenants further claimed Kaye refused to fix problems and raised the rent for anyone who filed suit against her. The tenants alleged violations of the Los Angeles Rent Stabilization Ordinances, breach of implied warranty of habitability, breach of contract, retaliation, negligence~ nuisance, and unfair business practices.
INJURIES: The tenants claimed to suffer allergies, asthma, bronchitis, chronic headaches, depression, anxiety, eye irritation, colds, heartburn, sinusitis, and sleeplessness.
DAMAGES: The tenants sought damages for overpayment of rent and emotional distress.
RESULT: The parties reached a settlement for $1.6 million.
Irvine Trial Lawyer Gregory G. Brown is a partner in the Orange County Business Litigation and Trial Law Firm of Brown & Charbonneau, LLP and specialize in complex business and trial matters. Gregory G. Brown is a Certified Trial Specialist and has been selected for inclusion by Super Lawyers for the last three years in a row (representing the top 5% of California Attorneys). Brown & Charbonneau, LLP is well known for being hard hitting, aggressive litigators and trial specialists. They practice business litigation, commercial litigation, real estate litigation, family law and personal injury litigation throughout Southern California.
For more information, visit http://www.bc-llp.com
# # #