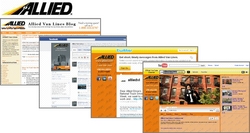 Our social media plan included the launch of an Allied Facebook fan page, YouTube channel, blog and Twitter page
Westmont, IL (Vocus) October 5, 2010
Allied Van Lines Inc., one of the world's largest moving companies and a subsidiary of SIRVA Inc., announced the launch of four social media platforms in efforts to educate, connect and communicate with customers during the moving process.
"Our social media plan included the launch of an Allied Facebook fan page, YouTube channel, blog and Twitter page," said Bill Lyon, general manager of Allied Van Lines. "These new platforms will give our customers multiple ways to communicate and connect with our brand. We're focused on providing valuable information that will help customers save time and money, along with new ways to connect with our moving specialists."
Facebook
The recently launched Facebook fan page touts agency reviews, how-to video links, local agent information, countless interstate moving company selection tips and a community where no moving question is off-limits. Once Facebook users become fans of the Allied Van Lines' fan page, they're made aware of exclusive moving deals and promotions, and given access to valuable resources as a part of this moving community. Visit the official Allied Facebook page for more information: http://www.facebook.com/AlliedVanLines
YouTube
The new Allied Van Lines' YouTube channel will serve as another customer resource, as it plays host to a variety of interstate moving-related videos. Channel visitors can view everything from how-to-pack moving guides to a documentary about life as a household goods mover. To view the video library, visit: http://www.youtube.com/alliedvl
Twitter
Allied's Twitter page will serve as a way for customers to ask questions real-time. Allied is encouraging Twitter followers to use the hash tag "#alliedvl" in posts for immediate response from the van line. Along with responding to inquiries, the recently launched Twitter page will update its followers with recently released moving industry information and important money saving moving tips. Visit Allied's Twitter page to join the conversation: http://www.twitter.com/alliedvl
Blog
The last platform to launch this month was Allied's moving blog, a one-stop resource for all things moving-related. This online forum will focus on taking the hassle out of the moving process with quick tips, money saving ideas, city information, local agent updates, moving product reviews and more. Visit the official Allied Van Lines blog for more information: http://blog.allied.com
About Allied Van Lines
Established in 1928, Allied Van Lines, with more than 400 agent locations in North America, is an experienced leader in household goods moving and specialized transportation services. Allied is one of the world's largest moving companies and one of the established global brands of SIRVA Inc., a leader in providing relocation services to corporations, consumers and governments around the world. For more information about Allied Van Lines, visit http://www.allied.com. Allied Van Lines, Inc., U.S. DOT No. 076235
About SIRVA, Inc.
SIRVA, Inc. is a leading provider of relocation solutions to a well-established and diverse customer base around the world. The Company handles all aspects of relocation, including home purchase and home sale services, household goods moving, mortgage services, and home closing and settlement services. SIRVA conducts more than 300,000 relocations per year, transferring corporate and government employees in addition to individual consumers. SIRVA's well-recognized brands include Allied, Allied International, Allied Pickfords, Allied Special Products, DJK Residential, Global, northAmerican, northAmerican International, SIRVA Mortgage, SIRVA Move Management, SIRVA Relocation and SIRVA Settlement.
###