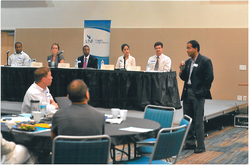 Jacksonville, FL (PRWEB) October 4, 2010
Earlier this month, APR Energy participated in a Career Boot Camp workshop at the University of North Florida (UNF). The Career Boot Camp focused on assisting local business students with building a career after graduation. APR Energy Logistics Coordinator and UNF Alumnus, Anthony Boyo participated in an Alumni Panel during the workshop with four other Jacksonville Business Professionals, discussing how to overcome the difficulties of "Transitioning into the Workplace" after college.
"I was pleased with the students' thirst for information on how to be prepared for the corporate world as well as what networking and professional activities to engage in so that they can become well equipped and marketable professionals upon graduation," said Mr. Boyo. "I'm very glad that APR is involved with local programs such as this one, assisting in the development of the business leaders of tomorrow. Due to the current high rate of unemployment, the skills and face- to- face interaction that were shared during the Boot Camp will serve as a valuable resource to these students."
The Career Boot Camp was associated with the UNF Coggin College of Business STAR (Skills To Achieve Results) program, which teaches students employability skills and how to present themselves professionally to potential employers in order to be successful after graduating.
Other businesses who participated in the Career Boot Camp workshop included The PGA Tour, Ernst & Young, Deutsche Bank, Crowley Maritime, PSS World Medical, Fidelity Investments, Enterprise Integration and Ian Martin Technology Staffing.
About APR Energy
APR specializes in the sale of reliable and efficient electricity through the rapid deployment of Customized Turnkey Power Solutions. APR's power generation solutions coupled with comprehensive operation and maintenance services and flexible commercial terms have established APR as a leader in the emergency rental power industry.
Press photos of the UNF Coggin College of Business Career Boot Camp workshop can be downloaded from the APR website at: http://www.aprenergy.com/pressphotos.aspx
# # #