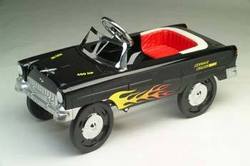 The allure and nostalgia of Pedal Cars has never vanished
Lexington, NC (PRWEB) October 15, 2010
Fortunately, PedalCarDeals.com has made this dream a reality. While the site's online store is open year-round, there is certainly an incentive to browse through it's shop of pedal cars around the holidays. Established in 2004, the site is devoted solely to pedal cars, and offers a wide variety of products in styles that kids would love to drive around. From Ford's famous Model T all the way up to a Shelby Mustang, there is certainly something offered that an energetic child would fall in love with.
Pedal Cars are miniature models of popular cars of the present and decades gone by. These types of toys can be sat on and propelled simply by a child reaching his feet down and pedaling like a bicycle -- they are often called "quadricycles" for this reason. Instead of battery powered toys that often break down or start having mechanical difficulties, the only mechanisms in pedal cars are the axels and pedals that make it move forward. For this reason, these toys usually last much longer than battery powered or plug-in cars.
PedalCarDeals.com is known for the quality of its products. Instead of flimsy plastic cars, the site's collection of signature pedal cars is thoroughly tested for safety and quality assurance, so parents can rest assured that, as long as the toy is being used properly, there is no risk of injury caused by the product. Each pedal car sold by PedalCarDeals.com is backed by the finest in customer service. The site offers multiple methods of contacting the seller directly, so that any questions can be answered and any concerns resolved.
Pedal Car Pete is the site's friendly mascot, proudly displayed at the top of every page. For kids, he is a fun reminder of all the excitement that pedal cars can give. Parents would do well to watch out for him too! Occasionally the site will offer special deals and promotions, which are indicated by a picture of Pedal Car Pete next to the product. He's more than just a mascot, so keep an eye out! A picture of this friendly car can mean huge savings!
The allure and nostalgia of Pedal Cars has never vanished in my mind. Being a 7yr old riding down the sidewalks all of the attention I got as I drove by others who were pushing scooters, pulling red flyer wagons or simply slowly riding beside my pedal car on their huffy's, wow the memories! The variety of pedal cars today has drastically grown with time where we used to simply have jalopies, 32 roadsters or old firetrucks now they have a huge variety of pedal planes, trains, and so many different pedal cars it's crazy.
There has never been a better time to invest in such a special toy for a child this holiday. Everyone knows that most kids will get excited about a toy they get, and then forget about it two weeks later. Who wants to spend hard-earned money on a toy that will get thrown away after only a few uses? A pedal car will be enjoyed for years to come, and the best place to buy one from is PedalCarDeals.com!
###