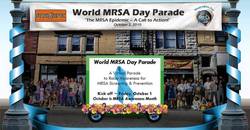 The accessibility and engagement possible with the Internet and social media allowed us to conduct a parade for MRSA awareness that honors the heroes in the battle against this disease and highlights just how serious this fight is for everyone
Albany, OR (Vocus) October 1, 2010
Today the MRSA Survivors Network will kick-off World MRSA Day with events at Loyola University Chicago, including the first ever MRSA Day virtual parade. StaphAseptic® first aid antiseptic and pain relieving gel, a platinum sponsor of World MRSA Day slated for October 2, 2010, today announced the first-of-its-kind 2010 StaphAseptic World MRSA Day Virtual Parade. The parade will honor advocates, victims and those dealing with MRSA everyday, and highlight the fight to prevent and stop the infectious disease.
Tec Laboratories, makers of StaphAseptic, took a creative approach to presenting a parade to convey the statistics and stories that comprise the MRSA epidemic in the U.S. and around the world by marching them down the streets of the World Wide Web.
"The accessibility and engagement possible with the Internet and social media allowed us to conduct a parade for MRSA awareness that honors the heroes in the battle against this disease and highlights just how serious this fight is for everyone," said Steve Smith, CEO of Tec Laboratories. "Someday we'd be proud to put on a parade down the streets of Chicago to celebrate the complete eradication of MRSA, but for now we can show this virtual parade to tell these important stories and educate people about prevention."
"As we act to bring attention to the fight for MRSA eradication, we must inspire a spirit of hope and confidence that we will achieve better screening and reporting to protect people. This parade expands the impact of our MRSA Awareness events by reaching more people around the world with the call for greater prevention education and engagement," said Jeanine Thomas, Founder, MRSA Survivors Network and World MRSA Day.
The parade features pictures and stories of victims and survivors of the deadly infectious disease, led by Grand Marshall Jeanine Thomas, founder of the MRSA Survivors Network and World MRSA Day. With 22 entries featuring memorial floats, marching bands, dignitaries and a couple of oversized parade balloons, parade goers can read more information or statistics about MRSA, preventative tips and success stories and tell-tale signs of the infection. There are also several ways for viewers to share the parade and tell their own stories of dealing with MRSA though Facebook, Twitter and sending email directly to Tec Labs.
The World MRSA Day virtual parade can be viewed throughout the month of October at http://mrsaparade.staphaseptic.com.
About StaphAseptic
StaphAseptic® first aid antiseptic and pain relieving gel is a greaseless, non-staining gel that provides soothing wound care without stinging or irritation. It contains lidocaine for effective pain relief. StaphAseptic is one tool in the fight to help prevent skin infections caused by bacteria such as MRSA and other germs. It's essential to treat even minor cuts and scrapes with an effective first aid product. Learn more about StaphAseptic and a complete wound care program to avoid staph infection and MRSA at http://www.staphaseptic.com. StaphAseptic is made by Tec Laboratories.
###