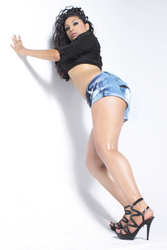 HIPHOPWORLD.COM is a multimedia conglomerate
Queens Village, NY (PRWEB) October 1, 2010
October is here and that means: Another "Honey" will soon be introduced on HIPHOPWORLD.COM! HIPHOPWORLD.COM goes through an extensive selection process—focusing on class and elegance rather than blatant raunchiness—and monthly puts the spotlight on a chosen Video Vixen and deems her one of their "Hip Hop Honeys."
HIP HOP WORLD's new Honeys section of their website is a drastically new and entirely unique concept in Hip Hop Culture. Most websites and magazines focus on only one aspect: The Rapper or M.C. However, HIPHOPWORLD.COM's belief is that there are five important elements that make up Hip Hop Culture, one of which is Video Vixens. These women are what make Hip Hop videos enjoyable to watch. These women deserve to be acknowledged and honored as Hip Hop Honeys!
Anyone who enjoys Hip Hop Culture, and the Video Vixens who make it super sexy entertainment, will love HIPHOPWORLD.COM's Honeys. Continuing their tradition of providing un-signed, virtually unknown, and otherwise ignored talented artists the chance to thrive in the Hip Hop World, HIPHOPWORLD.COM takes their platform for opportunity to a new level with their Honeys. These strong, bootylicious, females with attitude and panache are shown off from every angle, their curves and sexiness oozing off the page, and some are even interviewed to show off their most attractive feature: their personalities.
HIPHOPWORLD.COM is a multi-media conglomerate that ranges from Internet Broadcasting to Artist Development and Management to Marketing, Music, and Film Production. HIPHOPWORLD.COM has their ears to the ground and their fingers to the pulse of the Hip Hop World and its Culture, often being the only media company of choice at special hip hop events. HIPHOPWORLD.COM is often chosen exclusively to film the important events unfolding in Hip Hop Culture. One can always count on HIPHOPWORLD.COM to provide the news on what's new and what's hot—and with their new Honeys section on their official website, the women who make hip hop great will no longer be ignored!
See more Honeys at http://www.hiphopworld.com/hip-hop-honeys/
# # #