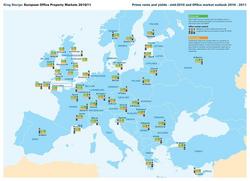 Here, global links have been the critical in the early rebound.
(PRWeb UK) October 3, 2010
European Office Property Markets 2010-2011:
Signals still mixed from Europe's office markets, but improvements to continue.
After two years of upheaval, there are signs of recovery in Europe's office markets at last. But the outlook remains mixed with markets recovering at very different speeds. This is the view of the latest edition of King Sturge's European Office Property Markets, a survey of Europe's most important office markets.
A few lead markets are now characterised by rising take-up and rents, and falling vacancy and yields. "Here, global links have been the critical in the early rebound." comments Andrew Burrell, Head of Office Research at King Sturge. "In western Europe, the green signals are clearest in London, Geneva and Paris, where businesses have benefited from well-established global connections, particularly in finance. In Eastern Europe, it is in the emerging economies of Russia and Turkey where the office rebound has been strongest, fed by a recovery in exports and commodity prices."
In Central London, a 40% drop in vacancy and doubling of take-up are in prospect this year. The revival has already lifted prime rents by 10%, while the UK's capital is virtually the only place in Europe where speculative office development is re-starting. Paris and Geneva are seeing a less dramatic recovery, but growth in these centres is expected to help lift take-up for Western Europe as a whole for the first time in three years.
Outside of these isolated hotspots, the picture is weaker. In the west, economic divisions run deep, with recovery in the south stalled by the Greek debt crisis. Most notable office market laggards are Athens and Madrid, where the slump is expected to continue and the lights remain firmly on red. Outside of Moscow and Istanbul in the east, demand has also stabilised at a low level and rents remain under pressure.
But the early stages of recovery are not the best guide to future prospects and performance differences should narrow as the recovery spreads in the next two years. A number of factors will ensure the health of office occupier markets:

The supply pipeline remains limited and vacancy is set to ease in most markets over the next year or more. In addition, speculative development is unlikely to return soon, with rents low and banks still rebuilding their balance sheets.
Economic recovery is expected to continue, though at different rates. The Eurozone will lag the UK and Nordics on GDP growth, with the emerging economies of Eastern Europe putting in the strongest performance.
In line with this, office employment growth is expected to resume next year and will support office floor-space demand over the medium to long term.
"Economic forecasts suggest that the larger international centres in the west will continue to perform well," says Andrew Burrell. "The global reach of London ensures it is the largest creator of office jobs over the next five years. Bucharest, Frankfurt, Paris, Amsterdam, Munich and Milan are also set to expand at healthy rates. "
To view and download a copy of the report go to: http://viewer.zmags.com/publication/9daeafef
The report will be available on the King Sturge stand during Expo REAL (4-6 October, Munich) – stand A2-421.
Notes to Editor:
Follow King Sturge on twitter: twitter.com/kingsturge
King Sturge is one of the largest international property consultancies in Europe with 42 owned offices in 14 European countries, forming part of a network of over 215 wholly owned, associated and affiliated offices in 47 countries worldwide. Over 3,800 staff throughout these offices cover all property sectors and specialisms including plant and machinery, and residential.
In Europe, King Sturge operates in the major UK commercial centres and principal mainland European cities. In Asia Pacific, the firm has associations in Australia, Indonesia, Malaysia and New Zealand. In the Americas, King Sturge has business partners in North, Central and South America through King Sturge CORFAC International and ChainLinks Retail Advisors.
Through a joint venture with a wealth manager, King Sturge now has a presence in the Middle East. The office will initially be based in Dubai, concentrating on states in the Gulf Corporation Council: Bahrain, Kuwait, Oman, Qatar, Saudi Arabia and the United Arab Emirates.
For further information please contact:
Régis Jacquemin, Corporate Communications Manager
+44 (0) 20 7087 5120
+44 (0) 7791 019 341
Andrew Burrell, Partner, Head of Office Research
+44 (0) 20 7087 5510
+44 (0) 7814 184 420
NEWS RELEASE: NR 364
# # #