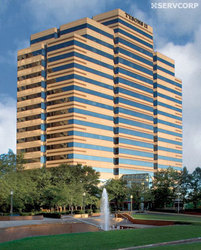 Add a quote"The McLean facility will provide our clients a premier location to take their businesses, whether a small enterprise or a Fortune 500 company, to new heights."
Atlanta, GA (PRWEB) October 1, 2010
Servcorp, a leading provider of virtual offices and executive suites to Fortune 500 companies, small and mid-sized businesses and entrepreneurs, today announced its McLean, VA location. Corporate Office Centre -Tysons II, one of the most prestigious mixed-use developments in the Washington Metropolitan area, will serve as the Virginia Executive Suites and Virginia Virtual Offices' location.
Positioned 20 minutes from Washington D.C., McLean is widely recognized as a key base for diplomats, members of the U.S. National Congress, high ranking federal government officials, including entrepreneurs and organizations based in McLean for its proximity to Washington D.C. The city also serves as headquarters for a host of Fortune 500 companies, such as SAIC and Capital One.
"Nestled in the Tysons Corner area of McLean, VA, the new Tysons Boulevard location is one of the most prestigious addresses in the Washington Metropolitan area and provides a practical business alternative to Washington D.C.," said Jennifer Goodwyn, vice president/general manager of Servcorp USA. "The McLean facility will provide our clients a premier location to take their businesses, whether a small enterprise or a Fortune 500 company, to new heights."
The Corporate Office Centre - Tysons II is the most recognizable feature of the McLean skyline, and affords excellent visibility from the nation's Capital Beltway. The location includes an 800,000 square foot shopping mall anchored by upscale retail department stores, an adjacent, luxury 5-Star hotel, banking services, a nearby health club and convenient parking facilities.
In tandem with the opening of the Virginia Executive Suites and the Virginia Virtual Offices, was the launch of Servcorp's Washington D.C. Executive Suites and Washington D.C. Virtual Offices. Business professionals and organizations looking for facilities outside the busy U.S. Capital can now turn to Servcorp's premium location in McLean, VA.
About Servcorp
Servcorp is the world's second largest provider of managed workspace and is viewed as the market leader in premium executive suites and virtual offices. Servcorp specializes in its advanced technology platform and five-star service. Its 20,000 clients range from Fortune 500 companies to small and medium-sized businesses and solo practitioners all over the globe. Servcorp clients include Microsoft, Intel, Coca Cola, Toshiba, Ford, Cisco, McKinsey, Mattel, Siebel, Apple, JP Morgan, Morgan Stanley, AOL, Clinique, Hitachi, Chevron Texaco, Marconi, Chicago Mercantile Exchange, Accenture, Vodafone, Credit Suisse, Salesforce.com, Symantec, Citrix, Booz Allen Hamilton and many more internationally recognized corporations. Founded in Sydney in 1978, Servcorp now operates an international network of prime office locations throughout Australia, New Zealand, Japan, China, South-East Asia, India, Europe and the Middle East including the prestigious Chifley Tower, Sydney: Shiroyama Trust Tower, Tokyo; Emirates Towers, Dubai; and Louis Vuitton Building, Paris. Servcorp's international strategy is to open at least 100 additional offices over the next three to four years. For more information, visit http://www.servcorp.com.
###