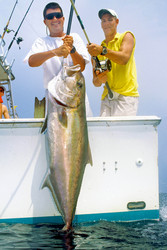 Gulf Shores and Orange Beach, Ala. (PRWEB) October 1, 2010
"This is the first fall season for red snapper we've had in several years," says Captain Ben Fairey of the charter boat "Necessity," based in Orange Beach, Alabama. "The captains and the anglers who come to Alabama's Gulf Coast are really excited about the numbers of snapper concentrated on the wrecks and the artificial reefs out in the Gulf of Mexico. Our average snapper will weigh from 5 to 12 pounds, and while we're catching snapper, we'll also be able to catch triggerfish, vermilion snapper, white snapper, lane snapper and many other types of snapper. On the longer trips, we can catch and keep amberjacks, scamp and grouper too. On the way out to the reefs, we'll be trolling for wahoo. Fall is a great time of year to catch wahoo here on Alabama's Gulf Coast."
Just outside of Perdido Pass, anglers will find plenty of Spanish mackerel and king mackerel. On many trips, anglers will catch Spanish mackerel and king mackerel before heading-out further to catch snapper and other reef fish. "And, on a recent trip, a 9-year-old hooked and reeled-in a 17-pound red snapper without any assistance," Fairey says. So-many snapper are holding off Alabama's Gulf Coast right now that anglers even on 4- and 6-hour fishing trips have good chances of catching their limits of snapper. Because of the oil spill in the Gulf of Mexico this past spring, these snapper have had little or no fishing pressure, and Alabama's more than 5,000 artificial reefs home plenty of snapper as well as numbers of big snapper.
"Also, scamp fishing (a type of grouper that weighs from about 5 to 15 pounds) has really been good, and we'll be able to catch some of those delicious fish this season," Fairey explains. "On an 8- or a 10-hour trip, we usually can catch amberjacks, triggerfish, snapper, king mackerel and vermilion snapper. Because of the light to no fishing pressure this past summer, we'll catch some of the biggest amberjacks, weighing from 30- to 50-pounds each, than we've ever caught before during the fall."
Fairey reports that when he's fishing for red snapper over the artificial reefs, he'll generally put-out a drift line (a single hook baited with a cigar minnow or a live bait with no weight). "We usually catch big king mackerel that will weigh from 20- to 40-pounds each with this technique, and because there are numbers of snapper in the waters, we often will catch the bigger red snapper close to the surface."
Alabama's Gulf Coast red snapper season starts October 1 at 12:01 am and ends at 12:01 am on November 22. You can keep the red snapper you catch on Fridays, Saturdays and Sundays during that time. If you fish both Friday and Saturday, you can bring-in a 2-day limit of snapper and other species of fish.
To contact Captain Ben Fairey, call 251-747-5782 or 251-609-2525, email bfairey(at)bellsouth(dot)net, or visit http://www.captben.com. You can learn more by calling Gulf Shores & Orange Beach Tourism at 1-800-745-SAND (7263) or by visiting http://www.orangebeach.com/fishing.
# # #