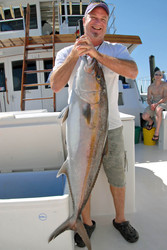 Gulf Shores and Orange Beach, AL (PRWEB) October 12, 2010
According to local captains in Orange Beach, Alabama, a boatload of 50-pound amberjacks topped off by limits of 10- to 15-pound red snapper and sides of triggerfish almost as big as garbage-can lids came to the docks at Zeke's Landing Marina in Orange Beach, Alabama, the first weekend in October, 2010. A large crowd of big-eyed spectators watched as this tremendous catch was unloaded at the dock by Captain Bobby Walker and his crew of the "Summer Breeze II."
David Carrington of Mobile, Ala., who had chartered a 12-hour trip with Walker, explains that, "We hadn't been able to go fishing in the Gulf of Mexico all summer, because of the oil spill last spring. When we learned that there would be a fall snapper season, we called Captain Walker and set-up our trip."
What a trip they had as they went 30-miles offshore, stopping first at a sunken barge where the anglers saw fast and furious action and caught big fish. "The amberjacks we caught on this spot averaged 30- to 40-pounds each, and we had one or two that weighed 50 pounds," Captain Walker reports.
Next the party went to an artificial reef that held abundant, waiting red snapper. Although the group caught and released plenty of red snapper, the red snapper they brought-in averaged 10- to 15-pounds each, a tremendous grade of red snapper at any time of year. Carrington's party had scheduled their trip for 12 hours but actually docked in 8 hours. All the anglers had caught their legal limit of amberjacks and red snapper, along with plenty of really-big triggerfish to round-out their catches. They'd enjoyed the fishing and had plenty of fish to clean and take home to eat.
One of the bonuses of fishing the Alabama Gulf Coast's special fall red snapper season, which started October 1 and lasts until 12:01 am on November 22, is that on the longer trips, you also can catch a limit of hard-fighting and delicious-to-eat amberjacks that certainly will stretch your fishing line. With one, 40-pound amberjack, and two, 15-pound snapper, as well as several 5- to 8-pound triggerfish to take home, plus all the catching and releasing you can want, a charter trip like Carrington's and his friends on Captain Walker's boat will be one of a lifetime.
"We really like to fish during the fall season," Carrington says. "But I hope we get to catch snapper and amberjacks in the spring and the summer, too, next year. Right now, the weather isn't hot, but the fishing is. So, come now to the Gulf of Mexico, and catch a number of big fish, including snapper, amberjacks, triggerfish and more."
Inshore fishing on Alabama's Gulf Coast also has heated-up with speckled trout, redfish and flounder. Too, big king mackerel that will weigh 20-pounds plus, Spanish mackerel in the 4- to 5-pound range and bull redfish that often weigh 20 pounds or more are being caught by near-shore anglers and fishermen on the Gulf State Park Pier in Gulf Shores, Ala.
To learn more about the Gulf State Park Pier, which is open 24 hours a day, 7 days a week, call 251-948-7275. For more information on fishing guides and charter boats, lodging accommodations, restaurants and entertainment on Alabama's Gulf Coast, call Gulf Shores & Orange Beach Tourism at 800-745-SAND (7263), or visit http://www.orangebeach.com. You also can get a fishing report three times each week by going to the "What's Biting" column at http://www.orangebeach.com/fishing/biting/. To have your catch cooked at the beach and order delicious side dishes, check-out http://www.gulfshores.com/dining-nightlife/restaurants/.
# # #