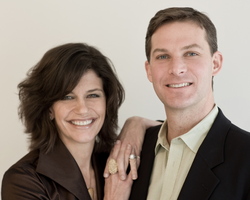 We decided to teach essential marketing principles in an out-of-the-box manner
Durham, NC (PRWEB) October 1, 2010
Join Certified Business and Marketing Coaches Bria Simpson, MA, and Mark Simpson, as they creatively show entrepreneurs how to update their marketing to get fast results. These experts understand that most business owners don't LOVE to market; in fact, the topic might make them a bit queasy. So they approached the topic with a sense of humor and a NEW way of teaching.
At various points, Mark Simpson is doing acrobatics on the trampoline. Curious? Sign up for this fun, no-cost, highly informative video series here:
http://exceleratedsuccess.com/videoseries/
"We decided to teach essential marketing principles in an out-of-the-box manner", says Bria Simpson, who was standing on her head at one point in this video series, "because we really want entrepreneurs to know they are leaving money on the table if they don't update their marketing and it's NOT hard to market effectively, they just need to know WHAT to do. We make it fun and simple so they'll DO it!"
Bria and Mark Simpson reveal the same strategies that allowed them to triple their business last year, and, again, this year, in the height of the recession. "There is plenty of money out there", says Mark Simpson, "but outdated methods- such as print advertising and word-of-mouth that may have worked a few years ago, is not longer enough for those who want to accelerate their business growth and income".
On this no-cost video series, they demonstrate:

The #1 Method for HOW to overcome your marketing phobias and WHY you want to do it soon.
The two major types of marketing and why you need BOTH to become highly successful.
The 3 hottest lead-generation marketing strategies to attract more clients or customers.
Why converting potential clients or customers into PAYING ones is now simpler than you ever imagined
A fresh, NEW approach to understanding marketing
Don't miss this short, fun, highly informative video series to learn how to accelerate business growth- with ease- with simple, updated marketing techniques.
Sign up here: http://exceleratedsuccess.com/videoseries/
Bria Simpson, MA, a certified business and marketing coach, has owned four businesses, served as a business consultant and coached for 8 years. She has appeared on Fox News, Martha Stewart XM, Redbook, Newsday and many other publications. Mark Simpson has owned three businesses, including one he grew into a multi-million dollar company, as well as a current successful online business. Together, they are the "Dynamic Duo of Business Coaching" helping entrepreneurs and small businesses vastly accelerate their growth, with ease, so they can enjoy the life and the freedom they desire.
####