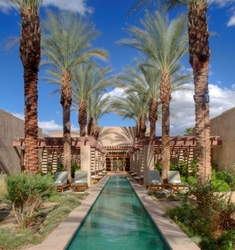 9th Best Spa in the United States
Indian Wells, CA (PRWEB) October 1, 2010
Hyatt Grand Champions Resort, Villas and Spa is pleased to announce Jennifer Di Francesco as the newly appointed Spa Director for Agua Serena Spa. Named for the pools of glistening waters surround the spa, Agua Serena at the Palm Springs spa resort is the place for guests to be transported to a world of complete relaxation. With more than 20 years of experience in the spa industry, Di Francesco has spent her career perfecting the art of spa at top resorts in California. As the newly-appointed Spa Director, she is responsible for on-site operations and ensuring guests are receiving the best spa experience offered in Indian Wells.
"We are very pleased to welcome such a highly acclaimed spa expert to Agua Serena Spa," remarks Allan Farwell, General Manager of the Palm Springs resort. "Her knowledge of the spa industry and forward thinking is a huge asset to the success of the Spa."
Prior to her role at Hyatt Grand Champions, Di Francesco was the Director of Spa Operations for The Well Spa at Miramonte Resort in Indian Wells, where she led the opening. During her time there, the spa received numerous awards, including the "9th Best Spa in the United States" by Condé Nast Traveler Magazine. In addition to her role managing the day-to-day operations, she was a key member of the regional spa team for Destination Hotels & Resorts.
As Spa Director of Agua Serena Spa at the Palm Springs resort, Di Francesco looks forward to applying her extensive experience and spa knowledge," remarked Di Francesco. "Many spas do not have the breadth of services that Agua Serena has. It is a pleasure to be at a 30,000 square-foot facility that offers extensive fitness, beauty, therapeutic and medical esthetic services."
Di Francesco's career began as a hands-on therapist performing facials and body services. Since then, she has been instrumental in opening three luxury spa facilities in the Coachella Valley, including The Well Spa, The Spa at Mission Hills at the Westin Mission Hills Resort and the Spa La Quinta at La Quinta Resort & Club. In each position, she was responsible for overseeing the design of the facilities, as well as the creation of signature spa services. Currently, Di Francesco hosts a weekly radio show every Tuesday from 8:00 a.m. to 9:00 a.m. on Power 100.5, a local Palm Springs radio station. On her radio show, "Total Wellness Tuesdays," she discusses medical skin care, Pilates, organic farming acupuncture and other wellness topics.
"It will be my goal to capture the quintessential features of Agua Serena, which embodies a balanced and inspired atmosphere to find ultimate tranquility from within," said Di Francesco. "This is the essence of this spa and will be highlighted in everything we do moving forward."
After receiving her licensing for Massage Therapy and Esthetics from the College of the Desert in California, Di Francesco was a post graduate trainer for the International Dermal Institute and a spa trainer for Kerstin Florian Skin Care. In 2005, she became a member of ISPA's Education Committee and was a speaker on behalf of the organization in 2006, where she created presentations on spa management, resource partner relations and spa retail as a resource for the entire ISPA membership community.
For more information regarding Hyatt Grand Champions Resort, Villas and Spa, please contact the resort by phone at (760) 341-1000 or visit the resort website at: http://www.hyattgrandchampions.com .
About Hyatt Grand Champions Resort, Villas and Spa
Nestled in 45 acres of lush gardens and shimmering fountains in Palm Springs, Hyatt Grand Champions Resort, Villas and Spa is a destination resort offering an oasis of endless sunshine and warm hospitality. The only resort in the Palm Springs area offering 43 private one- and two- bedroom villas with 24-hour butler service, this 530-guestroom resort's spacious design and world-class service seamlessly incorporates the natural beauty of the desert. Featuring the award-winning Agua Serena Spa and Medical and Skin Spa, delectable dining options, seven pools, and more than 88,000 square feet of flexible function space, the resort offers both leisure and business travelers the quintessential Palm Springs experience. Hyatt Grand Champions Resort, Villas and Spa has received numerous notable awards, including the prestigious AAA Four Diamond Award for more than 20 consecutive years. For more information, visit http://www.hyattgrandchampions.com
###