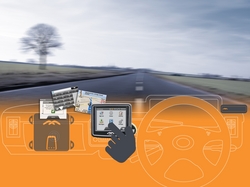 The new Mobile Communication Centre is a breakthrough in the in-vehicle technology. It gives fleet operators everything they could possibly need in a single cost-effective unit.
(PRWEB) October 1, 2010
Masternaut has become the first telematics company in the world to launch a new type of vehicle tracking system based around a single intelligent mobile communication unit. The system comprises a Mobile Communication Centre (MCC) combining vehicle tracking, GPS satellite navigation, hands-free mobile communications and real-time job scheduling and messaging in one unit.
The all-in-one unit eliminates the need for separate Sat-Nav, mobile phones and hands-free equipment. It also integrates with Masternaut's Three X mobile workforce applications, as well as Microsoft Outlook and Microsoft CRM providing a wireless link to important business data while on the move.
As well as breaking new ground in system design and user ergonomics, the MCC is believed to be the most cost-effective in-vehicle solution on the market.
The unit is designed for quick and easy installation reducing vehicle downtime. There is no software to install as the MCC links to the web-based Masternaut service, which updates instantly and wirelessly without disrupting the user.
The system is available with Masternaut's optional CANbus engine management application. This monitors driving behaviour and detailed engine activity in real time, including rpm, fuel usage, vehicle speed, journey distance between stops and duration, and braking as well as acceleration levels.
Two sizes of touchscreen display are available - standard 3.5 inch and a 6.5 inch version suitable for HGV applications. The MCC uses the highly secure and virtually indestructible Masternaut mobile collection unit; this is the brain of the MCC and continues vehicle tracking even if the touchscreen is damaged or stolen. The touchscreens are replaced easily in the event of accidental damage or loss.
A speaker allows drivers to continue to communicate with their HQs in the event of an accident and loss of vehicle power. Meanwhile a handy button pad includes a microphone for hands-free telephony and it also has a privacy button allowing drivers to switch between personal use and business use for mileage recording.
# # #