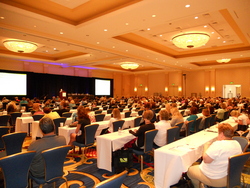 The largest ever gathering of patient navigators was a major step in institutionalizing best practices and empowering attendees to implement changes to improve patient care.
Monroe Township, NJ (PRWEB) October 1, 2010
To develop best practices and learn from one another, more than 400 US and international oncology patient navigators and other professionals gathered at the First Annual Navigation & Survivorship Conference of the Academy of Oncology Nurse Navigators (AONN). The goal of the conference was to expand and enhance the role of navigation in all cancer types.
"With navigators from a variety of clinical and cultural settings, the conference was designed to advance navigation and survivorship in cancer care through shared experience and education," said Sean T. Walsh, Executive Director. "The largest ever gathering of patient navigators was a major step in institutionalizing best practices and empowering attendees to implement changes to improve patient care."
A patient navigator is an individual responsible for the identification and removal of barriers to timely and appropriate cancer treatment. This can include nurse, social worker, and lay navigators, who act as a point of contact for a patient and support and coordinate various aspects of their cancer care including treatment, psychosocial care, patient education, community support, and financial and insurance assistance.
Breakout sessions on prostate, lung, breast, and gastrointestinal cancers focused on the specific challenges in providing optimal patient care. Fifty-five percent of attendees indicated that expanding the scope of their program was the number one priority coming out of the conference. Walsh indicated that in 2011 AONN will continue to focus on supporting the development of navigation programs so that all affected by cancer have access to these services.
As a key part of the inaugural conference, AONN presented the Excellence in Navigation & Survivorship AwardsTM. Recognizing excellence in patient navigation and survivorship care, six recipients were selected from more than 50 nominations:
Outstanding Community Outreach Initiative Award

Lynn Lutwin, BSN, MA, OCN, CBCN, of Steeplechase Cancer Center at Somerset Medical Center, Somerville, NJ, was chosen for her efforts to raise awareness amongst senior citizens about the importance of screening mammograms even later in life. These "Pink Parties" were a great success and are being conducted for a second year.
Outstanding Survivorship Initiative

Lehigh Valley Health Network in Allentown, PA, was honored for their Survivor PLACE (Programs for Living After the Cancer Experience) initiative, which provides multidisciplinary care in the form of a clinic and enables survivors to visit with a variety of allied healthcare professionals. Kathleen Sevedge, BSN, MA, AOCN, accepted the award on behalf of the team, which continues to strive to provide superior survivorship care for all those in their area affected by cancer.
Outstanding Program Award

Saint Thomas Health Services Centers for Breast Health Nurse Navigation in Nashville, TN, was chosen for their programs continued growth in providing care for breast cancer patients, which is a model for those beginning their programs. The award was accepted by Kim Parham, RN, BSN, CBPN.
Navigator of the Year Awards

Lung Cancer Navigator of the Year was awarded to Laura Hunnibell, RN, MSN, ARNP, AOCN, of the VA Connecticut Healthcare System West Haven Campus, West Haven, CT, for her work to develop and implement this role, as well as her assistance to help her facility improve the stage at diagnosis for patients with lung cancer. She has spoken nationally and has led an advisory group to develop a standard position description for cancer care coordinators/navigators in the VA Healthcare System.
Julie Pope, RN, BSN, of the Derrick L. Davis Forsyth Regional Cancer Center, Winston-Salem, NC, was awarded Gastrointestinal Cancer Navigator of the Year for her efforts to empower patients and their families with knowledge about their care and resources, as well as to support them through her caring and compassion.
Awarded to Susan Bowman, RN, OCN, MSW, of Wellspan Health at York Cancer Center, York, PA, the Breast Cancer Navigator of the Year award received the most nominations. Susan has been a nurse navigator for nearly 10 years offering information, support and clinical coordination for her patients. Susan has also extended her role into survivorship care by developing a curriculum to support survivors with their lifelong recovery process.
About AONN
The Academy of Oncology Nurse Navigators (AONN) is a national specialty organization dedicated to improving patient care and quality of life by defining, enhancing, and promoting the role of oncology nurse and patient navigators. The organization, which currently consists of over 1,700 members, was founded in May 2009 to provide a network for all professionals involved and interested in patient navigation and survivorship care services to better manage the complexities of the cancer care treatment continuum for their patients. AONN views its organization as one consisting of "professional patient advocates" and supports and serves its members to that end.
Contact AONN
Sean T. Walsh
Executive Director
Academy of Oncology Nurse Navigators, Inc.
PO Box 7568, Monroe Twp., NJ 08831
t: 732.992.1022
http://www.AONNonline.org
###