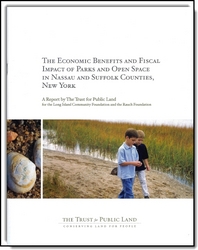 Long Islanders have always appreciated their parks and preserves for their aesthetic, recreational and health benefits
Patchogue, NY (PRWEB) October 1, 2010
Today the Trust for Public Land (TPL) released their report, "The Economic Benefits and Fiscal Impacts of Parks and Open Space in Nassau and Suffolk Counties, New York. TPL, a national conservation organization found that parks and open space provide a $2.74 billion annual economic boon to local governments and taxpayers on Long Island. The report details how conservation of parks and open space generates income and increases property values, even as it reduces the costs associated with new government services, if the land were developed.
"Long Islanders have always appreciated their parks and preserves for their aesthetic, recreational and health benefits," said John McNally, Rauch Foundation. "Now, they can appreciate the economic benefits and cost savings represented by the land they love," he added.
The report says Long Islanders are willing to pay $1.48 billion annually to recreate in public parks, with non-residents spending $615 million in the local economy, producing $27.3 million in sales tax. 611,000 Long Islanders engage in physical activities in parks that generate measurable health benefits of $164 million a year. Proximity to parks and open space increases the value of residential properties (an aggregate one time increase of $5.8 billion). Increased tax revenues generate $58.2 million annually.
"There's an ancillary benefit to the conservation of open space and parks," said Jessica Sargeant of TPL. "The annual cost of new residential development in Nassau and Suffolk is $33,000 per acre, while the cost of open space and parks in the two counties is just $3,750 per acre, more than eight times less costly than development. So, Long Islanders get 'twice the economic benefit' from open space and parks, relative to more residential development."
The report was commissioned by the Long Island Community Foundation and the Rauch Foundation and was released at a 12:30 p.m. news conference, held at the Fire Island Visitors Center and Watch Hill Terminal in Patchogue. The Keynote Speaker was New York State Comptroller Thomas DiNapoli and dozens of Long Island leaders were on hand to await the findings.
"The report highlights the broad base of support for open space conservation and the many benefits that open space provides. An earlier study by my office made similar findings. The Long Island Pine Barrens Protection Act is clear evidence that with sound planning, we do not have to choose between economic growth and protection of natural areas. In order to preserve our communities, we all must continue to foster smart growth and the conservation of open space," said Comptroller DiNapoli.
The report called attention to the thriving agriculture industry on Long Island, worth $288 million annually. This includes visits to wineries and to pick strawberries in the spring, pumpkins in the fall and shop for Christmas trees in the winter.
In addition, protecting the source of underground drinking water reduces the cost of water up to ten-fold and parks and open spaces capture precipitation or slow its run-off, reducing storm water management costs by $23.9 million annually. Trees and shrubs also remove air pollutants, reducing pollution control costs by $18.9 million a year.
Copies of the report can be downloaded at http://www.tpl.org/longislandanalysis
About Trust for Public Land:
The Trust for Public Land is a national nonprofit land conservation organization dedicated to preserving land for people to enjoy as parks, open spaces and gardens. TPL was founded in 1972 and relies upon the support of individuals, foundations and corporations. Visit TPL at http://www.tpl.org.
About Long Island Community Foundation:
The Long Island Community Foundation (LICF) is a 31-year-old operating division of the New York Community Trust. The mission of the Long Island Community Foundation is to enhance the well being of the people and communities of Long Island. The Foundation does this by identifying current and future community needs, strengthening the capacity of the Island's not-for-profit sector to respond to community needs, and encouraging philanthropy and building a permanent endowment to address these needs. Visit LICF at http://licf.org/
About the Rauch Foundation:
The Rauch Foundation is a Long Island-based family foundation that supports innovative and effective programs designed to: Give disadvantaged children a better start in life; Improve the natural environment in Long Island and Maryland; and Build management skills and develop leadership in the nonprofit sector. The Foundation is also the convener and publisher of the Long Island Index. The Index provides data about the Long Island region in order to promote informed public debate and sound policy making. For more information, visit http://www.rauchfoundation.org or http://www.longislandindex.org.
###