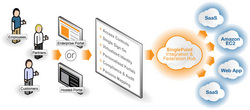 "The potential of cloud computing will not be realized until the Cloud has an identity and trust foundation on par with the security within enterprise datacenters.
Boulder, Colo. (PRWEB) October 1, 2010
Symplified®, the Cloud Security company, today announced that it was named a runner-up winner by the Wall Street Journal (the Journal) in the network security category of the publication's 10th annual Technology Innovation Awards. Symplified was recognized for its ability to provide access management security, Single Sign-On (SSO) and usage auditing for cloud applications. The company has developed unique technology that extends identity management and security controls from existing enterprise IT systems on private clouds to public cloud and SaaS applications.
This year the Journal received 597 applications from companies, organizations and individuals in 30 countries. Journal editors reviewed the entries and forwarded about 275 to a panel of judges from research institutions, venture-capital firms and other companies. From that pool, the judges chose 49 for awards.
The judges assessed the applications on three criteria:

Does the innovation break with conventional ideas or processes in its field?
Does it go beyond marginal improvements on something that already exists?
Will it have a wide impact on future technology in its field or in other fields?
"The potential of cloud computing will not be realized until the Cloud has an identity and trust foundation on par with the security within enterprise datacenters. Based on this vision, we created a purpose-built solution that incorporates identity and access management into the underlying infrastructure of the Cloud," said Eric Olden CEO of Symplified. "Being recognized by the Wall Street Journal from a field of nearly 600 applicants speaks volumes about our vision and innovative approach to cloud security. When the world's leading business publication underscores a solution that provides single sign-on, access control, and usage auditing for cloud applications as one of the three leading network security innovations of the year - the problem has reached critical mass and can't be ignored. Cloud identity management has reached the mainstream and Symplified is leading this revolution."
About Symplified | The Cloud Security Company
Symplified provides the Trust Fabric of the Cloud by enabling companies to extend and enforce identity and access management policies on cloud applications. SinglePoint is available as an on-premises or completely hosted solution, and uses a proven proxy architecture that works without agents or custom code to speed deployment and cut management costs by as much as 80 percent. Symplified Trust Cloud is the only identity and access management solution woven into the fabric of the Amazon EC2 platform and capable of delivering cloud security services on a massively scalable and global basis. Symplified's management team created Web access management, provisioning, and federation pioneer Securant and the ClearTrust product, which was acquired by RSA Security for $140 million. The company is backed by leading venture capital firms Granite Ventures and Allegis Capital. Symplified is headquartered in Boulder, Colo., with offices in Palo Alto, Calif. Visit us on the Web at http://www.symplified.com.
# # #