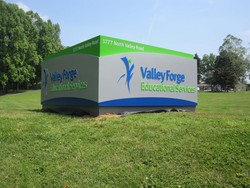 Conshohocken, PA (Vocus) October 1, 2010
RMH Image Group, a leading large format digital printer in the Philadelphia area recently partnered with designer John Burns of John Burns Graphic Design to produce custom exterior signage for the campus of Valley Forge Educational Services. The project included an illuminated monument sign prominently displayed at the main entrance, numerous post and panel wayfinding signs, and various building identification signs. RMH was called upon to manage all aspects of sign production and installation. Click Here to view a short video of this project along with other projects completed by RMH Image Group.
"We have been working extensively with RMH over the past two years to develop signs for our Valley Forge Educational Services campus. RMH has managed all aspects of sign production and has either installed or consulted on the installation of each sign. The project has included the production of a variety of monument and wayfinding exterior signage, as well as some banners and interior door signs. RMH employees have provided friendly and dependable service. We have been pleased with the outcome of each product." -- Holly Henry, VFES Director of Communications
Valley Forge Educational Services offers a wide variety of educational services focused on guiding 21st century learners to independence. VFES provides premier educational solutions for young children, adolescents and pre-21 adults ranging from school-based and summer programs to career planning to clinical and consulting services.  VFES also offers professional support to organizations, schools and families through The Luma Center™ for Development and Learning and its Conferences and Training division. Part of VFES' mission is to increase the awareness and understanding nationally and globally about children with special needs and to share this expertise generously. Valley Forge Educational Services is located at 1777 North Valley Road in Malvern, Pennsylvania. http://www.vfes.net.
If you would to learn more about RMH Image Group and their projects, please feel free to visit the RMH Website at http://www.rmhimagegroup.com. RMH's website features informative content, pictures, videos, newsletters, products, contact information and various user tools. Once on the site, you can learn about products and services, sign up for the monthly newsletter, request an estimate, download file setup instructions , upload files, and contact RMH with general or specific inquires.
RMH Image Group is the comprehensive large format graphic solution for trade show graphics and displays, portable banner stands, posters, full color banners, vinyl vehicle graphic wraps, and signs, handling jobs from inception to delivery. Their commitment to outstanding customer service has made them one of the top large format digital printers in the area. For more information please feel free to call or email RMH Image Group.
# # #