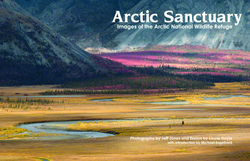 This book beautifully showcases a pristine land caught in the crosshairs of the greatest of human calamities, including global climate change and the grim search for energy resources." Art Wolfe - Host public television's Art Wolfe's Travels to the Edge
Santa Barbara, Calif. (PRWEB) October 1, 2010
After numerous all-season adventures across several years, renowned photographer Jeff Jones offers an unprecedented glimpse into a vast wilderness most people know by name, but few will ever visit. "Arctic Sanctuary: Images of the Arctic National Wildlife Refuge" (University of Alaska Press, September 15, 2010) is a stunning pictorial odyssey guided by Jones's well-developed vision and accompanied by Laurie Hoyle's lyrical essays.
Among the most distinctive and comprehensive compilations of its kind, the publication of Arctic Sanctuary coincides with a traveling exhibition of Jones's original and often emotionally provocative photographs. The exhibition is part of the U.S. Fish and Wildlife Service's nation-wide celebration of the Arctic National Wildlife Refuge's 50th anniversary.
"It is a true honor to have been selected by U.S. Fish and Wildlife Service to represent this important milestone. I hope that my work will not only raise awareness of the refuge, but will also inspire its continued preservation," said Jones.
Spanning more than 19 million acres – an area roughly the size of South Carolina – the Arctic National Wildlife Refuge is the largest and best known of the more than 500 wildlife refuges in the United States. It is the only national conservation area with a complete range of arctic ecosystems: coast, tundra, mountains, taiga, and boreal forests, as well as a network of 18 major rivers, two of North America's largest lakes, and warm springs that support a wide variety of plant species unique to the Arctic region. The refuge is also home to the most diverse population of wildlife in the circumpolar north, including polar, black, and grizzly bears, caribou, Dall sheep and golden eagles. With no known introduced species, the refuge provides scientists an exceptional baseline for study of undisturbed ecozones and natural processes.
Because the refuge prohibits roads and trails, Jones traveled by bush plane, river raft, snow mobile and on foot (backpacking and base camping), often enduring weather extremes and rugged camping conditions. Continuous light that prevails from late April to mid-August, and sun obscured by the horizon from mid-November to mid-January, provided interesting lighting conditions throughout the year; during summer months, Jones literally worked around the clock. Traveling in winter with an Inupiat guide, Jones dealt with sub-zero temperatures via multiple layers of clothing and frequent consumption of fat-rich, high calorie meals (think bagels fried in bacon fat and caribou sandwiches). Manipulating camera equipment in such extremes required ingenuity and forethought to prevent malfunctions caused by moisture or ice crystals. As a precaution, he traveled with multiple camera bodies and stowed equipment in padded and insulated containers when navigating rough terrain. He often warmed hard drives used to store his digital images by placing them under his parka to absorb body heat. In summer, he used a portable solar panel to power his electronic equipment and charge batteries.
Summer months presented other challenges such as mosquitoes obscuring his lens, thunderstorms with gale force winds, and fires caused by lightening strikes.
Despite recurring challenges, Jones captured an extraordinary set of landscape photographs. Arctic Sanctuary: Images of the Arctic National Wildlife Refuge depicts the pristine, majestic wilderness that is relatively whole, ecologically intact, untamed by technology, free from major human development, and still driven by ancient evolutionary energies. Jones's important body of work has the potential to raise awareness about the Arctic National Wilderness Refuge and inspire continued preservation and stewardship for generations.
About the Arctic Sanctuary Exhibition:
The Arctic Sanctuary photo exhibit will be on display in the gallery at the University of Alaska, Anchorage - Consortium Library through November 1, 2010, at the Well Street Art Co in Fairbanks, AK beginning December 2, 2010, at the National Conservation Training Center in Shepherdstown, WV in January 2011, and at the Bruce Museum in Greenwich, CT in spring 2011.
For more information about booking the Arctic Sanctuary exhibition in your city, or to interview the author, contact Jeff Jones 805-291-2184 http://www.lumnos.com
ARCTIC SANCTUARY: Images of the
Arctic National Wildlife Refuge
Photography by Jeff Jones / Essays by Laurie Hoyle
Introduction by Michael Engelhard
Published by the University of Alaska Press and
distributed by the University of Chicago Press
Publication date September 2010 / 192 pages, 162 color plates, 14 x 9
ISBN: 978-1-60223-088-0 / Cloth $55.00
Bios:
Jeff Jones– Wilderness Landscape Photographer
Jeff Jones's keen understanding of the natural world, coupled with decades of experience in remote backcountry and wilderness areas, is the foundation for his exceptional landscape photography. From sweeping panoramic vistas to intimate, abstract studies of nature's elemental forms, his work reveals his deep respect for and endless fascination with Earth's delicate ecosystems. Jones captures the essence of nature with landscape images that are as exquisitely composed as they are breathtakingly beautiful.
Jones began photographing nature more than two decades ago. Since that time, he has created significant bodies of work related to the Arctic National Wildlife Refuge and California's Sierra Nevada. His work also focuses on shared public lands including Yosemite, Sequoia, and Kings Canyon National Parks. Jones follows in the American tradition of raising public awareness of wilderness through art. His work has supported numerous art and environmental organizations including the Alaska Coalition, Alaska Wilderness League, Northern Alaska Environmental Center in Fairbanks, Community Environmental Council in Santa Barbara, the Wildling Art Museum, Sequoia Parks Foundation, and Sierra Club.
Jones's work is frequently shown in traveling fine art and environmental advocacy exhibitions and at galleries and museums throughout the U. S. His traveling exhibitions include "A Wilderness Worth Saving," "Future of Sequoias: Sustaining Parklands in the 21st Century," and "Arctic Sanctuary." His photography is also featured in numerous private collections in Santa Fe, NM, Minneapolis, MN, Fairbanks, AK, and in Santa Barbara, CA.
Jones resides in Santa Barbara, California with his wife, Laurie Hoyle.
Writer Laurie Hoyle holds a Master's degree in education from the Gevirtz Graduate School of Education at the University of California, Santa Barbara. She is vice-chair of the Sequoia Parks Foundation board of directors.
# # #