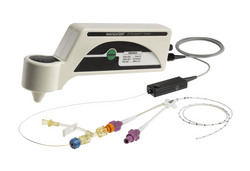 Marlborough, MA (PRWEB) October 1, 2010
Navilyst Medical announced today the addition of the Navigator® BioNavigation® System manufactured by CORPAK MedSystems to its product portfolio in the U.S.A. The Navigator BioNavigation System is designed to aid in the accurate placement of peripherally inserted central catheters (PICCs). The use of tip location devices in the U.S.A. is growing due to the time, costs and challenges faced with current PICC insertion practices.
The Navigator BioNavigation System is designed to help improve procedural efficiency by reducing radiation exposure and the incidence of incorrectly positioned PICCs. As a battery operated, hand-held instrument, the Navigator BioNavigation System provides an audible and visual indicator to let the clinician know the position of the catheter tip inside the body during the catheter insertion procedure.
The Navigator BioNavigation System is compatible with Navilyst Medical's line of PICCs, including the Xcela® PICC with PASV® Valve Technology, which combines power injection with the innovative design of the PASV Valve for an advanced vascular access solution.
The addition of the Navigator BioNavigation System, as a complementary technology with Navilyst Medical's PICC portfolio, demonstrates Navilyst Medical's commitment in helping to make PICC insertion procedures safer and more cost effective.
About Navilyst Medical
Navilyst Medical Inc., headquartered in Marlborough, MA, is a leading provider of medical devices for vascular access and the diagnosis and treatment of non-vascular and vascular disease. Its breakthrough devices which include PASV® Valve Technology, expanded line of Xcela® Power Injectable PICCs and world-leading NAMIC® Fluid Management products, help hospitals achieve safe, favorable outcomes for patients. The Company distributes its products worldwide and has its lead U.S. manufacturing facility in Glens Falls, NY. For more information, please visit http://www.navilystmedical.com.
About CORPAK MedSystems
CORPAK MedSystems, founded in 1979 and headquartered in Wheeling, IL, manufactures and markets enteral/vascular access devices used primarily in the acute care setting: hospitals and surgery centers. Products are sold worldwide through a combination of exclusive distributors and a direct sales force. CORPAK manufactures a complete range of leading edge enteral access devices, including CORTRAK, a device that "traks" the feeding tube during the bedside placement procedure, as well as the Navigator BioNavigation System that aids in the placement of peripherally inserted central catheters (PICCs). CORPAK MedSystems is dedicated to developing technologically advanced medical devices that benefit both patients and clinicians. To learn more about CORTRAK, Navigator, and our entire product portfolio, please visit us at http://www.corpakmedsystems.com.
# # #