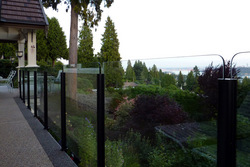 The topless railings gives an exception unobstructed view, not to mention the beauty it adds to the house curb appeal
(PRWEB) October 4, 2010
Falcon Railings is excited to announce the expansion of their topless glass railing system to Vancouver. Falcon Railings Vancouver has been operating over the past year with tremendous success. This unique design system, featuring vertical posts with rotating gaskets, adapts to any deck shape and accommodates all types of angles.
Topless glass railing systems add significant value to any home as well as provide owners with breathtaking views, unobstructed by traditional rail posts. "Topless glass railings offer an attractive alternative to traditional glass railings, wooden and aluminum types while still meeting or exceeding safety requirements," says Frank Viscount, Co-Owner of Falcon Railings Vancouver. For homeowners looking to sell, adding a topless glass deck railing system will add the wow factor as buyers are often willing to pay more if a property views are unobstructed.
Many reputable companies have already worked with FRV's topless glass railing system. It is featured in RDC Fine Homes' 2010 Net Zero Home in Whistler, the first green house designed to produce more energy than it uses, and Rammed Earth House another RDC design for environmentally conscious homeowners who are mindful of their environmental footprint. "The topless railings gives an exception unobstructed view, not to mention the beauty it adds to the house curb appeal," says Richard Haywood of RDC Fine Homes.
FRV was featured in the Vancouver Interior Design Show and The WestHouse, at Live City Yaletown Olympic venue with SmallWorks Studio / Laneway Housing another eco-friendly company utilizing green building practices specializing in eco-density housing.
FRV 's glass railing system can also be seen on the roof top terrace in Award Winning & Heritage Designated Building in the Heart of Yaletown (1155 Mainland Street) - the Percival Bldg circa 1912 aka "Del Prado", showcasing a rooftop deck railing system that features 10 mm privacy glass.
# # #