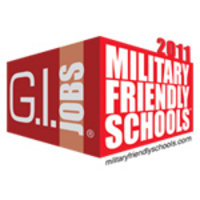 New York, NY (PRWEB) October 1, 2010
G.I. Jobs announces the launch of its new website, complete with the new 2011 list of Military Friendly Schools. The newly redesigned website, found at http://www.militaryfriendlyschools.com, features interactive tools and search functionality to assist military veterans in choosing the 2011 Military Friendly School that best meets their personal educational needs.
The tens of billions of dollars in tuition money, now available with the passage of the Post-9/11 GI Bill last year, has intensified an already strong desire by colleges to court veterans as students for their classrooms. The list honors the top 15% of colleges, universities and trade schools which are doing the most to embrace America's veterans as students.
A full story detailing the 2011 list of Military Friendly Schools will be highlighted in the annual Guide to Military Friendly Schools and on a poster, both of which will be distributed to hundreds of thousands of active and former military personnel this month.
The list was compiled through exhaustive research during which G.I. Jobs polled more than 7,000 schools nationwide. Methodology, criteria and weighting for the list were developed with the assistance of an Academic Advisory Board (AAB) consisting of educators from Carnegie Mellon University, Duquesne University, Colorado State University, Dallas County Community College, Old Dominion University, Cleveland State University, Lincoln Technical Institute and Embry Riddle; as well as Keith Wilson, VA's director of education services; Michele Spires, American Council on Education's assistant director of military programs; Janet Swandol, associate director for CLEP and Derek Blumke, president of Student Veterans of America. A full list of board members can be found at http://militaryfriendlyschools.com/Article/advisory-board/.
ABOUT G.I. Jobs
G.I. Jobs (http://www.gijobs.com) is published by Victory Media, Inc. a veteran-owned business which also publishes The Guide to Military Friendly Schools, Military Spouse and Vetrepreneur magazines and annually rates the nation's "Military Friendly Employers," "Military Spouse Friendly Employers" and "Best Corporations for Veteran-Owned Businesses."
Search the 2011 Military Friendly Schools list now at http://www.militaryfriendlyschools.com/pr
###