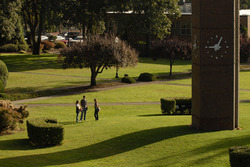 encourage excellence in the theory and practice of history from the perspective of historic Christianity
Newberg, OR (Vocus) October 1, 2010
About 200 scholars from around the country will descend on George Fox University for the biennial meeting of the Conference on Faith and History Oct. 7-9. The conference will be preceded by an undergraduate student conference Oct. 6-7.
The event brings together a community of scholars exploring the relationship between Christian faith and history. It draws members from a variety of Christian traditions from around the world as well as scholars from outside the Christian tradition. Ultimately, the conference's goal is to "encourage excellence in the theory and practice of history from the perspective of historic Christianity," according to the conference website.
More than 150 papers will be presented at the professional conference, the theme of which is "The Search for Peace, Justice and Equality." Check-in will start at 5 p.m. Thursday, Oct. 7, in the lobby of the university's Hoover Academic Building.
The plenary session, entitled "Is There a 'Latin American Christianity?' Negotiating Religious Identity and Space in the 19th and 20th Centuries," will follow at 7 p.m. in Hoover 105.
Various sessions will be held throughout the weekend and will feature discussions concerning faith, denominational perspectives, Christianity in early America, and sexuality and gender, among many others. Chairs of the various sessions represent such universities as Georgetown, Baylor and Wheaton College.
The conference will close with a plenary address from George Fox professor Elizabeth Todd at noon on Saturday, Oct. 9, in Hoover 105.
To register or find out more about the conference, visit georgefox.edu and conduct a search for the Conference on Faith and History.
The undergraduate student conference will feature a presentation by Allie Duncan, a junior history major from George Fox. To register for the student conference, contact Caitlin Corning at 503-554-2673. Students will not be charged to attend, but there is still a $10 fee for a student luncheon and a $15 fee for a faculty banquet.
The Conference on Faith and History is an affiliate organization of the American Historical Association.
George Fox University is ranked by Forbes as the top Christian college in the Pacific Northwest and among the top three Christian colleges in the country. George Fox is the only Christian university in the Pacific Northwest classified by U.S. News & World Report as a first tier national university. More than 3,400 students attend classes on the university's campus in Newberg, Ore., and at teaching centers in Portland, Salem, and Redmond, Ore., and Boise, Idaho. George Fox offers bachelor's degrees in more than 40 majors, degree-completion programs for working adults, five seminary degrees, and 11 master's and doctoral degrees.
Contact:
Caitlin Corning
Professor of History
503-554-2673
###