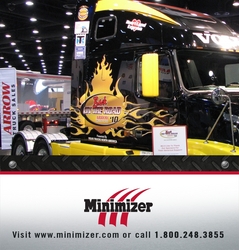 Blooming Prairie, MN (PRWEB) October 1, 2010
The Great American Truck Show (GATS) was held August 26-28, 2010 in Dallas, Texas and proved to be a successful venue for Minimizer.
"We continue to see growth in our heavy duty truck following," said Jeff McCabe, President of Minimizer. "And it's not just our durability that is carrying the momentum, it's also the promotion of fuel economy and how that's impacted by weight. Minimizer fenders are a lightweight option for truckers."
"Every trucker needs fenders to protect their rigs and loads," added Jeff. "Minimizer is one of the lightest options on the market. It makes sense not only from the standpoint of how tough our fenders are, but how much money a trucker can save on fuel versus other products."
The Great American Truck Show saw exceptional traffic this year. With more than 500 exhibitors and more than 500,000 square feet of equipment, products and services for attendees to absorb, every aspect of the trucking industry was present.
The Minimizer display was located adjacent to the Arrow Truck Sales exhibit which showcased the "Back on the Road" truck, complete with Minimizer fenders. It helped to solidify strong interest in Minimizer's products.
"I really enjoy this show, it's a great opportunity to hear from good customers that want to share their Minimizer success stories," says Jason Johnson, Minimizer's South Central Regional Sales Manager. "And now with everyone talking fuel efficiency, it's an easy sell for us to say a full set of our MIN 4000 tandem axle fenders weighs less than 42 pounds. Guaranteed for life, more durable than the competition, what's not to like about our fenders?"
The Great American Truck Show provides the Minimizer team with a venue to stay connected with customers and gain valuable industry feedback. "We even had a customer show us a picture of his wrecked truck, he was rear ended, and he was so proud that his Minimizer fenders were still functioning properly after the accident," Jeff McCabe said.
Minimizer fenders will enhance the performance of all makes and models of over the road trucks, construction vehicles, or agriculture equipment.
Enhance and protect your vehicle with Minimizer products. The toughness is unmatched as seen on this Minimizer promotional video entitled "Tested & Tortured".
To order Minimizer fenders find a distributor by clicking here. Minimizer fenders and related products are available through exclusive Minimizer distributors.
For more information or to contact a dealer, call us at (800) 248-3855 or visit our website or email us at info@minimizer.com.
About Minimizer
Headquartered in Blooming Prairie, Minn., Minimizer manufactures poly truck fenders, poly toolboxes, customized semi truck mud flaps, and bracket kits. Family owned and operated for nearly three generations, Minimizer parent company Spray Control Systems, Inc., was founded in 1983. Minimizer aims to provide products tough enough to please tough people in a tough industry. For more information call (800) 248-3855 or visit http://www.minimizer.com.
###