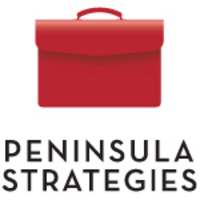 Of the 100 biggest companies in America, over one third do not appear to embracing the mobile channel as a means of reaching their markets.Laggards cross industry lines and include Lowe's, Exxon and Merrill Lynch.
Menlo Park, CA (PRWEB) October 5, 2010
Peninsula Strategies has released a ground-breaking report analyzing use of mobile marketing among America's biggest companies. The results are shocking: as of March 2010, researchers could find no mention of public-facing mobile applications for 36 of the Fortune 100 companies. These companies represented a cross-section of industries, with unusually heavy representation in energy. Why aren't gas stations--who are so naturally tied to mobility--thinking about applications to help their "on-the-go" customers?
With over 90% of the adult U.S. population in possession of mobile phones (according to the CTIA Wireless Association's evaluation of 2009 data), it is surprising that so many are foregoing an epic marketing opportunity. Some of America's biggest companies still are not using mobile applications as marketing tools:

Gas stations like ExxonMobil, Chevron, ConocoPhillips and Sunoco
Retailers like Lowe's and Costco
Healthcare and pharmaceutical companies like MedCo, McKesson and Cardinal Health
Upon hearing that a third of the F100 were not using mobile applications for marketing activities, David Murphy, editor of Mobile Marketing Magazine said "I'm actually pleasantly surprised that it's just one-third. Most organizations work to an 'if it ain't broke, don't fix it' mentality, but with the recent economic downturn, many companies have been forced to break out of this mold, which has worked in mobile's favor"
Of the companies who are using mobile to augment their other marketing activities, many are simply extending their existing services to a new platform. Of the 64 companies offering mobile applications for consumer consumption, half have introduced mobile services designed to enhance loyalty around existing products and services. 25 of the companies have introduced mobile applications aimed to increase brand awareness. Just 12 have begun to sell mobile applications. It is not clear whether these companies are supporting their mobile marketing tactics with a cohesive strategy. Says Murphy, "the key question is: how many of these companies have developed a mobile strategy, as opposed to an app strategy? There are way too many vanity apps out there. I have nothing against apps, but if reach is the aim, a mobile website must surely be part of the strategy."
Robbie Kellman Baxter, CEO of Peninsula Strategies says "Savvy companies recognize that consumer behavior has changed in the past few years. More and more discretionary time is being spent in front of a mobile screen—not the internet—and definitely not TV. The way that Americans communicate, gather information and spend discretionary time has shifted. It is clear that mobile devices are changing the way people learn about products and services, make buying decisions, and even buy things."
In looking at the 100 biggest U.S. companies, we saw that as of March 2010, many companies had not begun to invest in marketing through the mobile channel. There are bright spots, but the main message is that large companies need to be more nimble and forward-thinking in their response to new technologies.
To learn more about how your company can leverage mobile marketing to build brand, loyalty and revenue, OR to request a copy of the Peninsula Strategies Report entitled "Mobile Marketing and the F100: How America's Biggest Companies are Using Mobile to Build Brands, Revenue and Loyalty," please contact info at peninsulastrategies dot com.
###