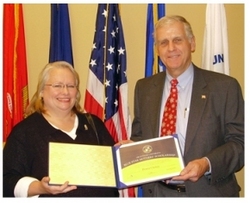 Kansas City, MO (PRWEB) October 1, 2010
Grantham University and its partner site, MyBlueStarFlag.com, announced today that it will offer one lucky Blue Star Flag supporter a full scholarship to Grantham University. The recipient may use the scholarship, which covers tuition costs, required textbooks, software and fees, to earn an undergraduate or graduate degree at Grantham.
"This is an incredible opportunity to say thank you to the loved ones who have tirelessly supported their service members as they serve our country," said Carl Ferrara, director of the MyBlueStarFlag.com program. "Their stories are inspirational and motivational, and I cannot think of a more deserving group for this scholarship."
The Blue Star Flag first appeared in 1917, when an Army captain who had two sons serving on the front line designed it as a tribute to their dedication and service. The flag quickly became the unofficial symbol of a child in the service. Today, families who have a loved one serving in the military display a blue star flag in the inside front window of their homes to show the family's pride in their loved one who is serving and to remind others that preserving America's freedom demands much.
Last year's Blue Star Flag Scholarship recipient, Donna Cheney, is working toward her dream of earning an associate degree in Multidisciplinary Studies at Grantham University. Her ultimate goal is to start an assistance group whose focus is supporting service members and veterans as they transition to civilian life. Mrs. Cheney and her husband, Dave, have four sons, all of whom are serving in the United States military.
The Blue Star Flag Scholarship is open to all supporters of the Blue Star Flag program. Applicants must meet Grantham University's minimum admission requirements. Applications are now being accepted and the deadline to apply is Monday, November 15, 2010. Visit: http://www.mybluestarflag.com/blue-star-flag-scholarship to learn more.
Grantham University was founded in 1951 by Donald Grantham, a veteran of World War II, to help prepare veterans for new jobs in the electronics' industry and a better future upon their return to civilian life. Today, the University supports thousands of online students in 36 different associate, bachelor's and master's degree programs.
Grantham University's flexible accredited online degree programs allow students to access their coursework when and where it's convenient for them, so they can fit education into their lives instead of arranging their lives around education. In a recent Student Satisfaction Survey, nearly nine out of ten students stated that they would enroll at Grantham again. To learn more, visit: http://www.grantham.edu.
About Grantham University:
Established in 1951, Grantham University is a private institution that specializes in online education for the working adult student. Its mission is to provide accessible, affordable, professionally relevant degree programs in a continuously changing global society. The University prepares graduates for careers in business, engineering technology, computer science, criminal justice, healthcare, nursing, information technology and other professional fields. Grantham University offers a military scholarship program for active duty, reserve, guard, veterans and military family members, as well as scholarships for law enforcement professionals. Grantham's courses are 100% online, allowing students to study at home, at work, on Temporary Duty (TDY) or from almost anywhere in the world. Accredited since 1961 by the Accrediting Commission of the Distance Education and Training Council, Grantham University has compiled a distinguished record as a respected and accredited distance learning university spanning six decades of service to education. For more information, visit http://www.grantham.edu or call 1-800-955-2527.
###