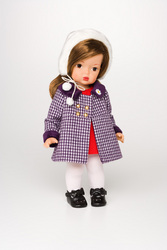 In a world of technology, Bratz and vampires, Terri Lee is a bastion of wholesome fun.
Chicago, IL (PRWEB) October 1, 2010
New stylish wardrobe? Check. Adorable new packaging? Check. A revamped website to shop, learn and play? Check. At long last, Terri Lee Associates is thrilled to reveal their 2010 line of play dolls called "The Four Seasons Collection" for girls everywhere ages 3 and up. 
Retailing for $34.99, the new age-appropriate, 15-inch vinyl dolls are modeled after the original Terri Lee Dolls of the 1940's and 1950's and come in four different seasonally inspired mid-century styles: Winter Wonderland, Swing into Spring, Summer by the Sea and Ready for Recess. 
A long time favorite among baby-boomers, the original Terri Lee Doll was dubbed the world's best dressed toddler, and was considered a fashion icon to thousands of little girls across the nation. At the height of her popularity, her fashion wardrobe contained over 500 different exclusive outfits and accessories. Each and every one made with the strictest attention to detail and the highest quality fabrics, as they are today.  Originally created in 1946 by Violet Lee Gradwohl, Terri Lee has been a family venture in the purest sense of the words for over 60 years. 
"In a world of technology, Bratz and vampires, Terri Lee is a bastion of wholesome fun," says Graham Hogan, Director of Production and Design, "She's a doll that your grandmother would be proud of... In fact, she probably played with one when she was a kid." 
In addition to creating a fashion icon, Terri Lee Inc. was one of the first doll companies to mass market an ethnic line of dolls in the late 40's. They helped shatter the color barrier by launching African American dolls Bonnie Lou and Patty Jo in 1947, two brave little ladies that defied the stereotypes of their day with stylish fashions and beautiful faces. An immense source of pride for the company, they offer all four of the "Four Seasons" dolls in an African American skin tone as well as Caucasian. 
Terri Lee headquarters recently relocated from the West Coast to Chicago, directly across from the world famous Merchandise Mart. Hogan touts that, "being in the heart of Chicago's design district has offered us unprecedented exposure to creative movers and shakers. With the popularity of shows like Mad Men, there's a real renaissance of mid-century style with an updated twist.  We're right at the forefront with Terri's classic, no-nonsense sophistication." In addition to the four styles currently offered, work is underway on the 2011 line of outfits that promise to not disappoint.
The new Terri Lee play dolls are available at http://www.terrilee.com and select European retailers.
# # #