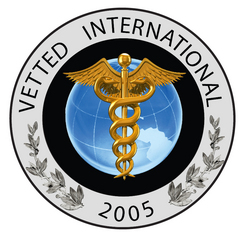 Base line audiograms can be compared to post deployment tests to rule in or rule out hearing loss.
Raleigh, NC (PRWEB) October 1, 2010
Vetted International, Ltd. (http://www.vetted-intl.com) continues its support of the Department of Defense by providing services appropriate for planning, deployment, and redeployment of defense contractors authorized to accompany U.S. Armed Forces overseas.
Historically, Vetted services insurance carriers and defense contractors in support of United States strategies abroad that are covered by a 1941 law titled the Defense Base Act (DBA). Generally, all contractor personnel who support U.S. Forces in contingency operations may be provided resuscitative care, stabilization, and movement in emergencies where loss of life, limb, or eyesight could occur. Once a patient is stabilized by the military, it is the responsibility of the contractor to continue treatment and transport the injured to a civilian facility. The DBA covers civilian contractors, however, there are many challenges that are difficult to overcome without a physical presence in the areas in which injuries occur. Vetted provides that physical presence throughout the world and provides medical management and evacuation services.
Vetted is now proactively prescreening contractor personnel authorized to accompany U.S. Armed Forces using MOD 10 to USCENTCOM to Individual Protection and Individual/Unit Deployment Policy. All defense contractors are required to provide only medically and physically qualified personnel to perform duties in contingency operations outlined in their contracts. Department of Defense Instruction 3020.41 requires defense contractors to undergo similar evaluations as the military personnel they will accompany. Emphasis is placed on diagnosing cardiovascular, pulmonary, orthopedic, neurologic, endocrinologic, dermatologic, psychological, visual and auditory conditions, which may preclude performing the functional requirements of the contract. Additionally, candidates receive thorough dental exams and all required immunizations are administered prior to deployment. Vetted also obtains a dental panograph. When required, a specimen sample suitable for DNA analysis is obtained and forwarded to AFRSSIR (Armed Forces Repository of Specimen Samples for the Identification of Remains).
"Pre-screening candidates may not only be a requirement for the protection of the contractor and accompanying armed forces units, but it also serves as a risk mitigator for the employer," said Brian Sjostedt, Vetted President & CEO.
"Base line audiograms can be compared to post deployment tests to rule in or rule out hearing loss. Psychological disorders, such as PTSD from previous deployments, when diagnosed in advance can potentially steer away undesirable and consequential behavior. Uncontrolled pre-existing medical conditions may require costly evacuation that may not be timely enough in these austere environments to save a life."
Vetted International also provides comprehensive background screening in addition to its medical, dental, and psychological evaluations.
About Vetted International:
Vetted International is a corporate and government solution based company headquartered in Raleigh, North Carolina, USA. Vetted utilizes a global network of integrity driven local national professionals to minimize risk and implement responsive action plans in various permissive & non-permissive environments. Foreign and domestic insurance companies, financial institutions, government departments & ministries, government agencies & contractors, and healthcare organizations have relied on Vetted's unique capabilities in over 50 countries worldwide.
Vetted International has been accredited by the Better Business Bureau in that it meets all standards including a commitment to make good faith efforts to resolve consumer complaints.
For more information, contact:
Mark Pauley
One Renaissance Center
3301 Benson Drive, Suite 545
Raleigh, North Carolina 27609
919-518-9200
877-838-8331 - Toll Free
Media Contact:
Vetted International, Ltd.
Mark Pauley
919-518-9200
877-838-8331 - Toll Free
# # #