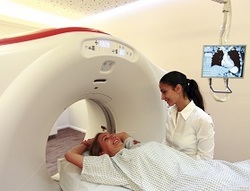 In response to the overwhelming demand from MS patients around the world, we are proud to offer the most comprehensive, promising treatment available today...
Dusseldorf, Germany (PRWEB) October 1, 2010
The XCell-Center proudly announces that it has commenced treating multiple sclerosis (MS) patients using its unique combination of stem cell therapy and liberation angioplasty at its state-of-the-art treatment facility in Dusseldorf, Germany.
This innovative treatment is a comprehensive protocol; one that not only targets damaged tissue with stem cells but also one that addresses stenotic veins (vena azygos and jugular) which a growing body of recent evidence cites as one of the potential causes of MS.
"In response to the overwhelming demand from MS patients around the world, we are proud to offer the most comprehensive, promising treatment available today," stated Dr. Cornelis Kleinbloesem, the XCell-Center's Director. "Unlike the few available therapies which are aimed solely at masking symptoms, combination stem cell - liberation angioplasty treatment targets the actual tissue damage while simultaneously attacking one of the disease's potential causes."
Treatment Diagnostics
Before receiving a specially tailored treatment program, each patient undergoes extensive diagnostics at the XCell-Imaging Center. In cooperation with specialists at General Electric (GE) , XCell-Imaging has developed specific protocols for neural tissue and venous diagnostics. These protocols are highly specified and can very accurately measure the blood flow and pressure differences in the vicinity of the venous stenosis.
3.0 Tesla MRI scanner from GE Medical Systems - allows very precise, shots of the brain and blood vessels in the head, neck and chest area. This is of utmost importance for patients in whom stenosis is diagnosed when its extent and magnitude has not been sufficiently identified.
Ultrafast CT scanner from GE Medical Systems - provides controlled venography of the head, neck and chest veins (CTPH), which provides an unparalleled view of the entire venous system.
Echo / Doppler Duplex GE Medical Systems - detects disorders of the flap motion and the venous flow. Normally, blood flows from the head to the heart. This flow direction is maintained through the function of venous valves. CCSVI patients often have impaired valve function and a backflow of blood towards the head.
Stem Cell Implantation
Each MS/CCSVI treatment begins by collecting a small amount bone marrow from the patient's hip bone using a thin needle under local anesthesia. The stem cells are then separated from the bone marrow at the XCell-Center's EU certified cGMP laboratory (current good manufacturing process). Before the cells leave the lab, they are counted and their vitality is confirmed. The last step of the treatment is the minimally invasive implantation procedures into the cerebrospinal fluid via lumbar puncture and into the pulmonary artery by angiography (catheter) under CT guidance.
Liberation Angioplasty
X-ray scanning is used to guide a balloon-tipped catheter into the affected azygos and/or jugular vein(s). Once the catheter reaches the target area, the balloon tip expands to widen the stenotic area(s) and increase/normalize the flow of blood from the brain.
Pricing
Pricing for combination stem cell therapy and liberation angioplasty starts at 13,500 Euros for a single stenosis. Combination treatment for two stenoses is 16,500 Euros.
About the XCell-Center
The XCell-Center operates treatment centers in Cologne and Dusseldorf, Germany. It is the first clinic in Europe to specialize in regenerative medicine using autologous bone marrow stem cell therapy and operates in accordance with German law, European guidelines and ISO 9001. Its specialized medical team of German physicians includes specialists in: neurosurgery, orthopedics, cardiology, radiology, anesthesiology and pharmacology.
The XCell-Center also treats Diabetes and its complications (Erectile Dysfunction and Peripheral Artery Disease), Stroke, Cerebral Palsy, Autism, Spinal Cord Injuries, Orthopedic diseases, Heart Disease and degenerative diseases such as Multiple Sclerosis, Parkinson's, Alzheimer's and several eye diseases.
Since its inauguration in 2007, more than 3,500 patients have been treated.
For more information on Stem Cell Therapy:
XCell-Center Website: http://www.xcell-center.com
Twitter: http://www.twitter.com/xcellcenter
Facebook: http://www.facebook.com/XCellCenter
XCell-Center GmbH
at the Institute for Regenerative Medicine
Am Heerdter Krankenhaus 2
40549 Dusseldorf, Germany
Phone: 1-866-680-8202 (USA Toll-Free) (+49) 0221-802-5095 (Germany)
Fax: 1-713-583-9322 (USA) (+49) 0221-2921-2550 (Germany)
###