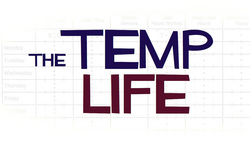 New York, NY (PRWEB) October 1, 2010
CJP Digital Media (http://www.cjpdigital.com), the branded digital entertainment arm of marketing consultancy CJP Communications, today announced Illeana Douglas (Entourage, Easy to Assemble), Craig Bierko (Damages, Cinderella Man) and Milo Ventimiglia (The Divide, Heroes) will guest star on the upcoming fifth season of The Temp Life (http://www.thetemplife.tv), the original comedy web series sponsored by and produced for Spherion Staffing Services since 2006, premiering December 6th on My Damn Channel. My Damn Channel Founder & CEO, Rob Barnett, announced the entertainment studio and programming network has picked-up The Temp Life during the company's third birthday event hosted by the New York Television Festival last Friday.
Temp Life creator/producer and star Wilson Cleveland enlisted The Legend of Neil's Tony Janning and Gabe Uhr to write the new season which finds Nick "Trouble" Chiapetta (Cleveland) resuming control of hiring temps at Celltons, now the number-two cellphone button-maker in the country. When Celltons' icy CEO, Eve Randall (Douglas reprising her role), believes one of Nick's temps is sabotaging the company from within, everybody is a suspect including Nick's estranged stepbrother Eddie (Bierko), a socially-ungraceful cafeteria temp (Ventimiglia) and other temp hires played by new and returning guest stars Janning, Sandeep Parikh (The Guild, The Legend of Neil), Taryn Southern (Rules of Engagement) Mark Gantt (The Bannen Way), Jessica Rose (lonelygirl15, Greek) and Anyone But Me's Rachel Hip-Flores.
Since its debut, The Temp Life, has generated tens of millions of views across online, mobile and video-on-demand platforms and has received numerous awards and recognitions, including a 2010 Streamy Award nomination for Best Branded Entertainment Web Series.
Links to all seasons of The Temp Life are available on Spherion.com and across all SFN Group brand web sites. My Damn Channel will begin running season four episodes in the coming days and will premiere The Temp Life's fifth season December 6th on MyDamnChannel.com, YouTube, DailyMotion and Boxee. new season will be also be available as The Temp Life's standalone iPhone application as well as on iTunes and Roku set-top boxes, Samsung and Vizio televisions via Blip.tv. The Temp Life is also available on-demand in in nearly two million U.S. hotel rooms via BOWTV.
###