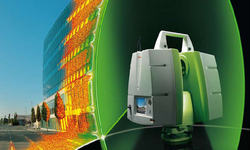 They will be able to place the jury into a crime scene, and to counter 'the CSI' effect when this evidence is presented in court.
Norcross, Ga. (Vocus) October 1, 2010
In a move that reflects law enforcement's increased focus on threat assessments of potential soft targets such as government buildings and major urban infrastructure, the Fresno County, California Sheriff's Office recently acquired a Leica Geosystems 3D laser scanner with the help of a homeland security grant. The Leica ScanStation C10 is being used to scan a variety of soft targets, mostly in the city of Fresno.
Fresno County occupies a large sprawling area—over 6,000 square miles— of California's Central Valley. The Sheriff Department's jurisdiction comprises the unincorporated areas (population 300,000) from the 9,000 foot elevation in the Sierra Nevada mountains down to the valley floor as far west as Interstate 5—a very large area to patrol.
"Our initial targets are the Sheriff's Office headquarters building, the jail facilities, the Court House and the Forensics Laboratory," said Michael Koop, Director of Forensic Services for the Sheriff's Office. "The scan data is being provided to our SWAT Team to assist with their threat assessment and tactical planning."
Koop said one of the key advantages of the Leica ScanStation C10 is it can produce an interactive 3-dimensional image, called a Leica TruView, of the exterior and interior of a scanned structure, such as a school, hospital or Courthouse. "We can put those images on a CD and hand them to our SWAT team or stream the TruView to a laptop computer for immediate on-scene use."
The Leica Geosystems ScanStation is an easy-to-use, compact and portable 3D laser scanner that can capture 50,000 measurement points per second out to a range of 900 feet. The system also features an internal digital camera for panoramic photography. The technology is used by law enforcement agencies all over the world for crime scene investigation, vulnerability and threat assessments, post-blast investigation, police action inquiries, accident investigations and more.
The Fresno Sheriff's Office was the first law enforcement agency in the country to acquire the new model ScanStation C10 and the instrument has already been used not only to scan several potential soft targets but to document the crime scene of a recent homicide.
For Sheriff Margaret Mims, the Leica ScanStation will play an essential role in crime scene investigation. "The way that law enforcement handles the processing of crime scenes has changed over the years," she explained. "And new technology is pushing that change even quicker. The Fresno County Sheriff's Office now has the Leica C10 to assist with this issue, allowing us to preserve the scene in 3D exactly the way it was discovered."
Lab Director Koop concurs. "The icing on the cake is, the ScanStation can also be used for homicides, major crimes and officer-involved shooting. The accuracy of the C10 is far greater than any other instrument normally used.
Nine members of the Forensics Lab's staff of 23 are currently trained to use the ScanStation C10. Koop said the new model was a significant advance from an earlier Leica 3D scanner that the lab had seen. "The C10 is a big upgrade. It's almost a generational shift. It has a touch-screen and an intuitive interface that's very well thought out. The set-up, imaging and scanning is fairly simple. You don't need a lot of tech savvy. People caught on very quickly. One of Leica Geosystems' instructors came to our facility and conducted a three day class for seven or eight of our technicians. And the company's tech support has been excellent, very supportive and helpful."
Sheriff Mims is especially impressed by the ScanStation as a powerful tool to assist prosecutors. "They will be able to place the jury into a crime scene, and to counter 'the CSI' effect when this evidence is presented in court."
"There is a growing recognition among public safety agencies that 3D scanning can serve as both a powerful tool for homeland security enhancement as well as crime scene documentation," said Tony Grissim, Leica Geosystems's Public Safety & Forensic Account Manager. "The high number of visitors we are seeing on our forensic web site at http://www.leica-geosystems.us/forensic/index.htm appears to reflect that interest."
Leica Geosystems – when it has to be right
With close to 200 years of pioneering solutions to measure the world, Leica Geosystems products and services are trusted by professionals worldwide to help them capture, analyze, and present spatial information. Leica Geosystems is best known for its broad array of products that capture accurately, model quickly, analyze easily, and visualize and present spatial information.
Those who use Leica Geosystems products every day trust them for their dependability, the value they deliver, and the superior customer support. Based in Heerbrugg, Switzerland, Leica Geosystems is a global company with tens of thousands of customers supported by more than 3,500 employees in 28 countries and hundreds of partners located in more than 120 countries around the world. Leica Geosystems is part of the Hexagon Group, Sweden
To view this release on the web please click here: http://www.leica-geosystems.us/forensic/index.htm
For further information please contact:
Andre Ribeiro
Director of Marketing
Norcross, GA 30092
E-mail: andre(dot)ribeiro(at)leicaus(dot)com
Phone: (770) 326-9557
http://www.leica-geosystems.us
# # #