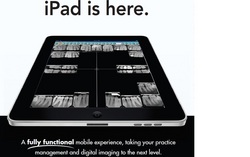 DDSLink gives you tremendous convenience and efficiencies in the day-to-day operations of your practice.
Orlando, FL (PRWEB) October 1, 2010
Advantage Technologies announced the launch today of the DDSLink application for iPad at the 92nd Meeting of the American Association of Oral and Maxillofacial Surgeons in Chicago. DDSLink gives dentists and dental specialists the ability to access their Practice Management Systems by using the popular, touch-screen interface benefits of Apple's iPad.
"It is a significant benefit for a provider to be able to access all points of information about a patient, including advanced imaging systems, right from their iPad either in the patient room or out of the office" said Bryan Currier, Advantage Technologies CEO. "Our customer base has been asking for these solutions and we have invested heavily to deliver the most robust solution on the market."
DDSLink for iPad is designed to be used wirelessly within the office and enables access of information in the office remotely when necessary. Dentists can access practice management systems, interact and manage patient images, and access basic operations like email and file management.
Keith Remer, sales manager at Advantage Tech, told customers in Chicago that they can "treat their iPad application like a wireless touchscreen monitor that can be used inside the office, and anywhere in the world with high speed internet. This gives you tremendous convenience and efficiencies in the day-to-day operations of your practice."
DDSLink allows doctors to take their practice management and imaging systems and interact with them from the Apple iPad. It is designed to be used on a wireless network within the office, and can also remotely access their information from outside the office using any high speed internet connection. Think of it as a wireless, touchscreen monitor for your private office PC, that can be used inside and outside the office.
Advantage Technologies is based in Troy, MI and operates IT support centers throughout the United States. The company has strategic relationships which enhance its offering to dental specialties making Advantage Tech a one-stop solution for small and midsized medical practices.
For more information, visit http://www.adv-tech.com/ddslink/dds-link.html
###