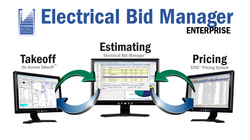 Electrical contractors will always be looking for the best estimating and pricing software solution...
Carlsbad, CA (PRWEB) October 1, 2010
Vision InfoSoft, an industry leader in electrical integrated software solutions, has three nominations for the Showstopper awards at this year's NECA Show in Boston, Massachusetts. The annual NECA Showstopper is the most prestigious award program for the electrical construction Industry. Winners of the award have been presented by Electrical Contractor Magazine for the past 15+ years in the January issue of the magazine and on http://www.ecmag.com . Vision InfoSoft's three 2010 Showstoppers include Electrical Bid Manager Enterprise™ (EBM Enterprise), EPIC CatLynx™, and EPIC DUO™, all of which represent the successful innovation of Vision InfoSoft's integrated software solutions.
"We are very proud to have three products nominated for Showstoppers. We have worked hard in creating the most efficient integrated software for electrical contractors and we are happy to be part of such a prestigious awards program," said Derrick Delliquadri, Marketing Director of Vision InfoSoft.
Vision InfoSoft is currently the only company in its industry to offer an electrical integrated software suite that includes software for electrical estimating, On-screen Takeoff®, and an in-house electrical pricing service. Leading the Showstopper nominations is Electrical Bid Manager Enterprise, Vision InfoSoft's premier software suite which includes electrical estimating software with integrated on-screen takeoff and in-house daily pricing updates via the internet. This product suite also includes Vision InfoSoft's additional Showstoppers, EPIC CatLynx and EPIC DUO, which are convenient software add-ons that optimize the work flow and accuracy of EBM Enterprise. EPIC CatLynx provides electrical contractors with full-color media catalog pages from over 200 manufacturers for over 600,000 electrical items. EPIC DOU offers electrical material pricing software that provides daily target and trade pricing updates via the internet.
Derrick Delliquadri continues, "Electrical contractors will always be looking for the best estimating and pricing software solution they can hang their hat on and feel confident in using. This year, we have put all our resources into rethinking and updating our software suite features and integration. We now combine ease of use, convenient training options, customer feedback generated updates, industry leading on-screen takeoff and pricing data integration along with 18 years of experience to produce the perfect estimating platform to grow your business."
About National Electrical Contractors Association's (NECA) Showstopper Awards Program
A Showstopper nomination is considered to be a new, innovative, and classic product or service. Each will be judged at the NECA Show is Boston based on various factors and the winners will be announced in the January issue of Electrical Contractor Magazine and on http://www.ecmag.com. Vision's three showstoppers; EBM Enterprise, EPIC Catlynx, and EPIC DUO will be on display in the NECA New & Featured Product Room at the NECA show in Boston October 3-5, 2010. Learn more about NECA Showstoppers on the web.
About Vision InfoSoft Corporation
Privately owned and operated since 1993, Vision InfoSoft (Carlsbad, CA) has over 11,500 customer using their estimating, pricing, billing and web services. Vision InfoSoft was founded by a team of experts in the fields of electrical and plumbing construction, software development, and information services. Their charter calls for the development and marketing of high-quality, yet affordably priced, software and information services for the electrical and plumbing construction industry.
Learn more about Vision InfoSoft's products at VisionInfoSoft.com, read updated news at VisionInfoSoft.com/blog , become a fan of Vision InfoSoft on Facebook, and get updates via Twitter, twitter.com/VisionInfoSoft.
Contact: Derrick Delliquadri
Phone: 800-258-7752, ext. 521
E-mail: ddelliquadri(at)visioninfosoft(dot)com
# # #