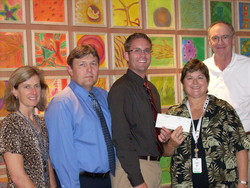 We are very excited to present this award to the Skyline Foundation
White Salmon, WA (Vocus) October 5, 2010
CPS-Impact Insurance (CPS-Impact) presented a $5,000 grant from the National Association of Life Insurance Brokerage Agencies (NAILBA) Charitable Foundation to the Skyline Foundation in White Salmon, WA to support Skyline Hospital's diabetic education's new 'Fight Back: Stop Diabetes Before It Starts' program. The program targets addressing pre-diabetes in Klickitat County, WA middle school children.
NAILBA's Charitable Foundation has been dedicated to providing funds to charities in local neighborhoods since 2001. NAILBA's grants are awarded to a wide range of programs and organizations that provide services designed to help those in need, specifically children.
CPS-Impact, located in White Salmon, WA, submitted the grant on behalf of the Skyline Foundation earlier this year and was recently notified of the award. "When NAILBA's grant application became available we noticed their main focus was helping children and the Skyline Foundation immediately came to mind," said Jess Wardwell, Vice President of Marketing for CPS-Impact. "Skyline's 'Fight Back: Stop Diabetes Before It Starts' program was a perfect fit. We help clients with diabetes find affordable life insurance on a regular basis, so we understand the medical complications this disease brings. What better a way to help than by spreading the word and educating our youth about this disease and how to prevent it?"
The national Center for Disease Control predicts that one-third of all children born after the year 2000 will develop diabetes in their lifetime. "It is critical that we educate youth and their families to develop a healthy lifestyle in order to reverse this catastrophic trend," said Becky Petty, Diabetic Education Specialist at Skyline.
The Skyline Foundation's mission is to improve community health. With obesity in Klickitat County well above the national average, it's imperative that we educate our youth on the seriousness of diabetes. "Once you have diabetes, it can never be resolved. It can however be prevented, through diet, exercise and making healthy choices," stated Stephanie Irving, Executive Director of the Skyline Foundation. "Students need to know they have a choice, we're thrilled Skyline's Diabetic Education Program is taking on this challenge."
This new program will allow a nurse specializing in Diabetic Education and Care to discuss diabetes and the importance of prevention to middle school children in Klickitat County. Children and their parents will be educated about this progressive disease, its dangers, and the medical costs associated with diabetes.
"We are very excited to present this award to the Skyline Foundation," said Wardwell. "We hope this program will set an example for other medical providers to allow the Fight Back program to go statewide, if not further."
About CPS Insurance Services:
CPS Insurance Services (http://www.CPSInsurance.com) has built a solid network and established a substantial presence across the USA as the leading provider of products, service, and support in the insurance industry. Celebrating 36 years of continued success, CPS is dedicated to meeting and exceeding the needs of affiliate agencies and individual brokers providing a balanced mix of the latest information and technologies, along with years of industry knowledge and service expertise.
The CPS marketing team is equipped with CLU, ChFC, and LOMA designations, offering strategic and advanced consulting, case design and management, point of sale support, immediate turnaround proposal service, field underwriting expertise, and application, licensing, and contract processing with status reports. By partnering with CPS, affiliates and brokers have access to the best options available in the insurance and financial services industry. CPS understands the market and its ever-changing targets and delivers the level of service and support that each client expects and deserves.
CPS Insurance Services, established in 1974 - providing brokers with the top Companies, the most competitive Products, and the best Service in the industry. For all your insurance needs!
Find CPS on Facebook at http://www.facebook.com/cpsinsurance and follow CPS on Twitter at http://www.twitter.com/cpsinsurance.
About CPS Impact:
For more information about CPS Impact Insurance Marketing please visit http://www.cpsinsurance.com.
About NAILBA: For more information about NAILBA please visit http://www.nailba.org.
About Skyline Foundation: http://www.skylinefoundation.org.
CONTACT:
Kara Bautch
Marketing / PR Associate
CPS Insurance Services
949.225.7123 Direct
###