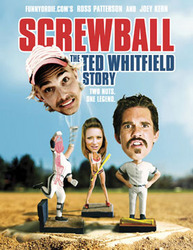 The release of 'SCREWBALL' on VOD is exciting for Camelot
Universal City, CA (PRWEB) October 1, 2010
Camelot Entertainment Group, Inc. (OTCBB: CMGR) ("Camelot") announced that SCREWBALL: THE TED WHITFIELD STORY is available today across North America on Video-on-Demand ("VOD") through dozens of cable, satellite, and telco operators including AT&T, Charter, Insight, Mediacom, Verizon, DirecTV, Bresnan, Suddenlink, Shaw, Cogeco, RCN, Telus and internet platforms such as Amazon, Blockbuster.com, Best Buy/Cinemanow and iTunes.
"The release of 'SCREWBALL' on VOD is exciting for Camelot," explained Jeffrey Giles, VP of Sales and Distribution. "VOD allows viewers the chance to bring the film instantly into their homes, while other platforms, such as iTunes, permit the film to be streamed or downloaded to a computer or mobile device."
Camelot's marketing strategy targeted social media platforms, including the launch of an interactive website (http://www.Screwball-the-Movie.com), college outreach, and involving wiffle ball enthusiasts.
"This has been a fun movie to promote," added Jessica Kelly, VP of Marketing and Public Relations. "We've been working closely with colleges and the Big League Wiffle Ball Association, whom have all loved the film. This mockumentary is extremely creative."
'SCREWBALL' is produced by Pixie Productions and Dundee Entertainment, produced and directed by director Tommy Reid, and written by Ross Patterson.
The cast includes Patterson (Accepted, 7-10 Split), Joey Kern (Super Troopers), Christine Lakin (You Again), Robert Ray Shafer ("The Office"), Andy Milder ("Weeds"), and Alana Ubach (Meet the Fockers).
SCREWBALL: THE TED WHITFIELD STORY takes place during the Major League Baseball strike in 1994, when the nation turned its eyes from baseball to professional wiffle ball. The story follows the pursuit of Ted Whitfield, the greatest player of all time and his attempt to break the home run record.
Fans can follow the film at http://www.twitter.com/screwballmovie or on facebook (keyword Screwball).
ABOUT CAMELOT ENTERTAINMENT
Camelot Entertainment Group, Inc. (http://www.camelotent.com) is a US publicly traded company (OTCBB: CMGR) with four divisions: Camelot Film Group, Camelot Distribution and DarKnight Pictures, Camelot Studio Group and Camelot Production Services Group. Camelot is building a different kind of motion picture studio infrastructure by redefining the development, financing, production, and distribution process. Camelot is a member of the Independent Film & Television Alliance (IFTA).
NOTES ABOUT FORWARD-LOOKING STATEMENTS
Except for any historical information contained herein, the matters discussed in this press release contain forward-looking statements that involve risks and uncertainties, including those described in the Company's Securities and Exchange Commission reports and filings.
Certain statements contained in this release that are not historical facts constitute forward-looking statements, within the meaning of the Private Securities Litigation Reform Act of 1995, and are intended to be covered by the safe harbors created by that Act. Reliance should not be placed on forward looking statements because they involve unknown risks, uncertainties and other factors which may cause actual results, performance or achievements to differ materially from those expressed or implied. Forward looking statements may be identified by words such as estimates, anticipates, projects, plans, expects, intends, believes, should and similar expressions and by the context in which they are used. Such statements are based upon current expectations of the Company and speak only as of the date made.
Contact:
Jonathon Russo
Camelot Entertainment
stockholders(at)camelotfilms(dot)com
(772) 919-8747
Media Contact:
Jessica Kelly
Camelot Distribution
Jessica(at)camelotfilms(dot)com
(818) 308-8858
# # #