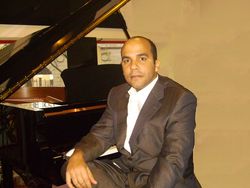 To listen to one of Amat's arrangements is to listen to many things. There is without a doubt something extremely special about Daniel Amat's offerings, they are exponential and rich, timeless, and never missing that enchanting Latin Jazz flair
Los Angeles, CA (PRWEB) October 4, 2010
Emerson Bran Management, is proud to present Cuban pianist, Daniel Amat's sizzling new album, "Bilbao-La Habana Y Vuelta" In Daniel Amat's new album, which was set in his native Cuba, he explores the concept of an artist in a new city, and the particular advantage this gives to a musician. Listeners are instantly set to experience the surge of the artist's awakening, a breath and pulse into the new rhythmic city, as he takes us through 9 tracks with romantic flair, carnival flavors, and musical styles.
"To listen to one of Amat's arrangements is to listen to many things. There is without a doubt something extremely special about Daniel Amat's offerings, they are exponential and rich, timeless, and never missing that enchanting Latin Jazz flair," says Emerson Bran, CEO, Emerson Bran Management. He adds, "We are very happy to be sharing this talented artist with the world."
"Bilbao-La Habana Y Vuelta" is the follow up to Daniel Amat's award winning debut album, "El Piano Que Llevo Dentro" that was composed with the same carnival of sensations and rhythms. Daniel Amat collaborates with well-known artists such as pianist Chucho Valdés, flutist Orlando Valle, and tres guitar player Pancho Amat. In "Montuno Bop," Chucho Valdés, the vocalists and the musicians disentangle a sweet sort of courtship of notes – from whimsical and impulsive to the swift and deliberate.
This gift comes naturally to Daniel Amat. His style is inherent, and instills a romantic and traditional flair in every one of his compilations. Tracks like "A Delia" which reflect the old 20th century soul that resides inside the piano of the artist, is a perfect example. The tracks "Danzonchito and "Contradanza a Mi Madre" showcase Daniel's musical motif of modernity and classical techniques. Daniel Amat certainly brings something new and innovative to traditional Cuban music.
Daniel Amat's newest album is extraordinary and focuses on stylistic influences from the early 20th century. The young accomplished Cuban pianist, who is also classically trained, voyages on the keyboard with playfulness and ingenuity to structures reminiscent in past traditions of the Danzón, the Contradanza, the Changüí and the Montuno while still preserving the uniqueness of each style and exalting in his own. Daniel Amat's new album "Bilbao-La Habana Y Vuelta" is available on iTunes worldwide, Spotify, eMusic, Zune, Rhapsody, and other virtual stores.
About Daniel Amat
Cuban Pianist, Daniel Amat was born in the city of Güira de Melena located in La Habana Province . He grew up surrounded by the rhythms and harmonies of his native Cuba. From a very young age he was influenced by his father Pancho Amat, one of the most important Tres players of all time, who passed him the tradition of Son, Trova, and Rumba. Daniel studied at the National School of Music in Havana and received a degree of classical pianist and professor at the National School of Music. having been exposed to numerous Jazz, and Latin-American composers has allowed Daniel to have a unique and authentic style where a fusion can be found between the formal elements of structure, the balance of classical music and the freedom of harmonies and styles of Jazz reminding us of Oscar Peterson or Art Tatum among others. Nevertheless, his music is completely dedicated to the main genres of Cuban music such as Son, Changui, Guaguango, and Danzon. Even though Daniel is influenced by the contemporary influences of today's music, his style is deeply based on the roots of Cuban music thus creating his unique and authentic musical language. Daniel has pursued his career internationally, appearing in prestigious venues throughout Europe and Latin America. His debut CD "El piano Que Llevo Dentro" (The Piano Inside of Me) received 2 awards of recognition in the 2005 Cubadisco in the Instrumental music category, and in the best opera prima category. For more info on Daniel go to: http://www.danielamat.com
About Emerson Bran Management (EBM)
Emerson Bran Management is a full-service booking and management agency established in 1999 exclusively in the Latin & Jazz industry. Our commitment is to bring you the best performers in Jazz, Fusion Jazz, Latin Jazz, Afro-Cuban music and more. EBM artists are some of the finest performers, clinicians and educators in the world. EBM represents, books, and has produced events with Grammy Award winners, national and international recording artists as well as emerging talent. From celebratory international and national headlining performances, to unforgettable collaborations and special presentations, EBM's artists offer a diversity of world genres and rhythms for any size engagement. For a complete roster of EBM artists, please go to http://www.emersonbranmanagement.com
# # #