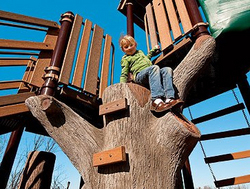 Delano, MN (PRWEB) October 15, 2010
At the upcoming National Recreation and Park Association (NRPA) Congress and Exposition in Minneapolis, Minn., Landscape Structures will exhibit their nature-inspired playgrounds. Additionally, volunteers will construct a nature-inspired sawmill-themed Landscape Structures playground as part of the NRPA Service Project: Leave It Better on Tuesday, Oct. 26. Find out more about Play Naturally playground design solutions.
According to the Centers for Disease Control (CDC), one in every five children is obese. A growing body of research shows that a lack of outdoor play and interaction with nature is a contributing factor to this epidemic. The issue is gaining so much interest that it even caught the attention of the White House; President Obama emphasized the importance of reconnecting American families to the outdoors and signed a Presidential Memorandum to launch America's Great Outdoors Initiative.
Landscape Structures is proud to be part of the natural play movement, which connects children with nature, by creating nature-inspired playgrounds and integrating them into the natural landscape. In January 2010, Landscape Structures introduced the Play Naturally™ playground design solution. This playground design solution offers nature-inspired play structures that blend the beauty and wonder of nature with the safety, age-appropriateness and durability found in commercial playground equipment. And best of all, these natural playground structures encourage children to play outdoors and appreciate the natural world around them.
# # #