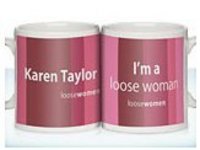 (PRWeb UK) October 4, 2010
Ever fancied joining the award-winning Loose Women© for a cup of coffee or tea? Now you can have your own perfect break thanks to a great new range of officially licensed mugs from Signature Gifts and ITV STUDIOS Global Entertainment – available to buy at http://www.gonedigging.co.uk. The mugs can be personalised with your – or a friend's – name on it – and it will make a great talking point for you and other Loose Women fans.
The Loose Women Mugs – in the iconic pink and burgundy stripe – are exactly the same design as the ones used by all the girls on the daily show. There are 10 mugs in the range which will retail at £9.99 each. The mugs are dishwasher and microwave safe and scratch resistant.
The four bespoke mug designs which can be personalised with just a few clicks on the site are:

You Name it – Loose Women Personalised Mug – as features on the show - personalised with the name of your choice (25 characters)
Loose Women Attitude Mugs - in addition to a name you can also select from a list of attitudes
o I Love Loose Women
o Loose and Loving It
o I'm a Loose Woman
o Loose and Proud
o 100% Loose

Loose Women Tea Break Mug – select your brew of choice from tea, coffee or hot chocolate. Preferences for decaf or herbal, milk and sugar can also be added in addition to a name
Loose Women Pearls of Wisdom - taking the concept of the personalised mugs to a whole new level, there are different slogans under three great categories – all typical of discussions held on the show
o Loose Women on Sex - eg "make 'em beg
o Loose Women on Men - eg "if he doesn't call, he's not into you! Move On!"
o Loose Women on Life - eg "a lot of pampering is a good thing"
Loose Women - which this year won the Most Factual Programme at the National Television Awards - has been running since 1999. The programme, which runs for an hour every day, has two regular anchors – Kate Thornton and Andrea McLean and 10 regular panellists Lynda Bellingham, Lesley Garrett, Sherrie Hewson, Lisa Maxwell, Jane McDonald, Carol McGiffin, Coleen Nolan, Zoe Tyler and Denise Welch. Additional guest panellists also appear.
Loose Women © ITV Studios Limited 2010. Licensed and distributed by ITV Studios Global Entertainment. All Rights Reserved.
About Gone Digging
Gone Digging (http://www.gonedigging.co.uk) is part of Signature Gifts Ltd which operates a number of innovative gift sites sharing the common goal of offering personalised gifts for important dates or interests. Sites include original and historic newspapers, sports and top news coverage of major events. Items can all be personalised and purchased in a number of mediums including frames, bound books, T shirts, calendars, diaries, cards and mugs. Established by Mike Herbert and Kevin Spindler in 2003, Signature Gifts Ltd employs over 75 staff based in two locations – Wigtown in Scotland and Harpenden in Hertfordshire.
# # #