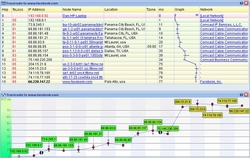 "We use VisualRoute as our primary Web troubleshooting tool. Of course, PING and TRACEROUTE work, but your product puts all the information together in a very neat and easy to read format that tells us where the problems are. A very well designed product
Turlock, CA (PRWEB) October 4, 2010
VisualRoute by Visualware is new for 2010. The aim of this release try to make and make the data received not only easy to understand but easy to use. TRACEROUTE and PING commands have always been available to everyone but customers still come to VisualRoute for its flexibility and depth of data provided.
Among the many features available continuous trace routing provides the ability to run a route over a long period of time which makes it easy to monitor performance degradation that can occur over large time spans. Various network diagnostic tools such as Traceroute, Ping and Reverse DNS are integrated into an overall connectivity report providing essential data with just a couple of clicks.
VisualRoute also offers more advanced features, such as reverse tracing. Reverse tracing from remote desktops helps resolve customer connectivity problems. The SupportPro Edition enables support staff to test connectivity in both directions: to/from the VisualRoute desktop and to/from remote systems. This capability provides visibility to connectivity problems that occur in one direction only, such as from the customer location to your server -- problems that are otherwise very difficult to pinpoint without imposing on the customer or traveling to the remote location. The SupportPro Edition utilizes remote agents to make reverse tracing a quick and easy process.
Other advanced feature is OmniPath. OmniPath gets real-time views of all possible routes to a destination and easily compare the performance of different routes. The common use of load-balancers creates multiple paths that data packets may travel between the source and destination. OmniPath discovers the various paths, making it easy to see which routes are the fastest/slowest, have the highest/lowest packet loss, or have the highest probability.
VisualRoute is available to try completely free for 15 days. Download a free VisualRoute trial here
About Visualware Inc.
Visualware provides effective solutions that help businesses better manage Internet application performance and resolve connectivity problems. For more information, visit http://www.visualware.com.
###