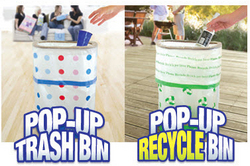 Flings Bins are ready to use in a snap. Pop It! Fill It! Toss It! or Recyle and Reuse!
Englewood, CO (PRWEB) October 4, 2010
TrashCo, Inc. announces its newest product line – New Flings® Pop-Up Trash Cans and Recycle Bins. Flings Bins recycling bins and disposable trash cans provide a hassle-free solution for cleanup at any occasion – at parties, at home or on-the-go. Flings Bins are convenient, portable, compact trash containers that are ready to use in a snap – Pop It! Fill It! Toss It! or Recycle and Reuse!
Flings Bins are free-standing portable trash containers that offer an attractive alternative to the dirty trash cans or trash bags hung on doorknobs that many people use at their get-togethers. With a 13-gallon capacity, each Flings disposable trash can features an easy-to-use drawstring allowing hosts to take Flings Bins directly from the party to the curb.
Whether it's a football tailgate, Halloween party or holiday celebration, party hosts can plan ahead for every occasion by providing stylish and convenient disposable trash cans and home recycling bins for guests with Flings Bins. Available in a variety of designs including celebration, Halloween, holiday, picnic, birthday and recycling themes, Flings Bins are the perfect trash cleanup solution.
Flings Bins have teamed up with nationally-acclaimed, party planner Jeanne Benedict to help people make the entire party-planning process as simple as cleanup can be with Flings Bins. Benedict has become the go-to party planner providing valuable tips on every step of the process, beginning with selecting a theme to the last item on the list: coordinating the trash cleanup. Benedict's all-star tips in combination with the convenience and attractive designs of Flings Bins disposable trash cans and recycle bins, make throwing a party easier than ever.
"When hosting a party, providing plenty of visible trash containers and recycling bins for guests allows you to enjoy your time with them rather than worrying about the cleanup. You can prevent an unsightly overflow of cans, bottles and trash at your next get-together by setting out Flings Bins," said Benedict. "Convenient Flings Pop-Up Trash Bins and Recycle Bins are packaged flat so they will not take up additional storage space in your home – simply pop open a decorative disposable trash can, fill throughout your party, and toss it."
With all the time, effort and cost that goes into planning an event, why ruin the party décor by hanging a trash bag on the doorknob? The average party host spends more than $400 on supplies for a birthday party with 12 guests or a cocktail party for 20 guests.* Flings Bins were developed as an affordable and eco-friendly way to make trash removal at gatherings simple.
Available at http://www.FlingsBins.com (with free shipping) and select retailers in the paper products or trash bag aisles, the manufacturer's suggested retail price for new Flings Pop-Up Trash Bins and Recycle Bins is under $4.
Flings Bins pop-up trash bins and home recycle bins are owned by TrashCo, Inc., a consumer products company dedicated to radically simplifying trash and recycling management for consumers. Headquartered in Englewood, Colorado, TrashCo is leading the way in materials and manufacturing processes that minimize the carbon footprint of its products. Its management team is comprised of seasoned entrepreneurs that identify unmet consumer needs and creatively graft improved sustainability into solutions that help change consumer trash and recycling habits.
Interviews are available with party planning expert, Jeanne Benedict, and Vandy Van Wagener at Flings. For more information on Flings Pop-Up Trash and Recycling Bins, visit http://www.FlingsBins.com and http://www.Facebook.com/FlingsBins.
*Evite party Budget Estimator
# # #