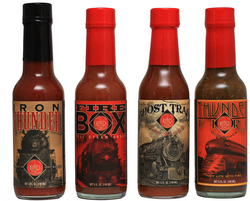 This line of sauces represents a great combination of all natural fiery hot sauces and a legendary brand, the B&O Railroad.
Sudbury, MA (Vocus) October 4, 2010
The Innovative Company LLC, a creator of private label and co-branded hot sauces, has introduced a new branded line of hot sauces to commemorate the B & O Railroad. Named after the pioneering Baltimore and Ohio Railroad Company that started the first American common carrier railroad in 1828, the B&O Railroad Hot Sauce line includes four blends that celebrate this important and iconic part of American history.
The first sauce is called Ghost Train. This all natural hot sauce gets its inspiration from a mysterious part of locomotive history — the phantom trains that eyewitnesses have seen moving down tracks in both the US and abroad. Made with the world's hottest pepper, the Bhut Jolokia pepper, Ghost Train features a hauntingly detailed etching of an old locomotive steam engine.
Next in the line up is Firebox Hot Sauce, with its 'Full Steam Ahead' descriptor on the label. Featuring a blend of Cayenne and Chipotle peppers, this hot sauce is named after the heart of the great steam locomotive engine, the firebox.
Completing the commemorative B&O Railroad Hot Sauce line are Thunder Fire and Iron Thunder. Thunder Fire is an all-natural habanero, lime juice and garlic sauce that features a distinctly art deco locomotive on the label and a call to "live life with fire". Iron Thunder is a cayenne and garlic sauce with another great steaming locomotive heading right for the beholder of this richly red hot sauce.
Sauce creator, crafter and partner of the Innovative Company LLC, David Ashley says, "This line of sauces represents a great combination of all natural fiery hot sauces and a legendary brand, the B&O Railroad." Ashley goes on to state, "Working with the B&O Railroad Museum has been a fascinating experience and discovery in this unique aspect of American history."
"We're excited at the opportunity," says Ashley, "It's clear that it took a lot of fire and determination to create the great B&O Railroad. Thanks to a licensing agreement with the B&O Railroad Museum, we're can help commemorate some of the essence of this great American railroad."
The Innovative Company is a specialty hot sauce creator, manufacturer and retailer of private label and licensed brand hot sauces. It's newest addition, the B&O Railroad hot sauces are sold online at boraildroadhotsauce.com
###