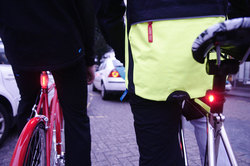 (PRWeb UK) October 1, 2010
During the last tube strike most Londoners turned to commuting by bicycle, and it also encouraged many more to decide to use two wheels instead of the tube.
Sales of hybrid bikes during the strike at Evans Cycles were up 10% on the previous week. Further analysis revealed womens recreational and mens urban bike sales were up 20% on the previous week showing the demand for cycling over the tube strikes.
Evans Cycles are specialists in helping new cycle commuters get on the road – providing plenty of advice for beating the tube strike by bike and commuting in general.
As well as bikes shops reporting increased sales, there will no doubt be a similar increase in usage of the Mayors new Barclays cycle hire scheme as TFL were reporting a 60% increase in usage of their bikes compared to previous days. A glimpse at most docking stations showed very few bikes left for hire and most out on the roads.
So expect to see thousands of Londoners out on their bikes, showing once again that the tube is not the only way to travel around London.
###