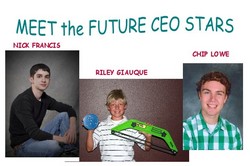 THE ENTREPRENEURS OF TOMORROW ARE IN OUR SCHOOLS TODAY! Network with the educators nationwide that are encouraging our young people to pursue the American Dream
Columbus, OH (PRWEB) October 4, 2010
What makes it possible to be an entrepreneur? Ask these self-reliant young people who are major speakers at the 28th Annual Entrepreneurship FORUM being held in Columbus, Ohio, November 12 - 16, 2010.
** Meet Riley Giauque - - 12 year old student entrepreneur from Marketplace for Kids in North Dakota who holds 3 patents and markets his EZPuck globally. http://www.entre-ed.org/_network/riley.pdf
** Meet Chip Lowe - 17 year old entrepreneur from the Buchholz Academy of Entrepreneurship in Gainesville, FL, who is CEE's technology consultant and has created the Consortium's four websites in the past year. http://www.entre-ed.org/_network/chip.pdf
** Meet Nick Francis - graduate of Toledo Technology Academy and member of National Honor Society who earned a young entrepreneur scholarship from NFIB-YEF to attend the Ohio State University for his business - International Halloween Productions LLC http://www.entre-ed.org/_network/nick.pdf
Attention Young Entrepreneurs. . .Student entrepreneurs have a special invitation to attend the 28th Annual Entrepreneurship FORUM on Sunday, November 14, 2010 at the Hyatt on Capitol Square in Columbus, OH. This one-day opportunity to exhibit and sell their entrepreneurial ventures is totally free and includes participating in the luncheon and speakers on that day. Entrepreneurship teachers at the conference will want to talk with "real, live, young entrepreneurs" and buy your products and services too! Check out the conference details,download the application and fill it out to be a part of the "Marketplace for Young Entrepreneurs". Deadline for applications has been extended to October 21, but space is limited so get your application in early. Application is at: http://www.entre-ed.org/_network/students.doc
Teachers Win Scholarships The annual entrepreneurship education conference is unique in attracting sponsors who pay for scholarships for teachers to attend. This year the forum is providing 108 such scholarships for entrepreneurship educators to join the conference participants. The generous sponsors include The Appalachian Regional Commission, The Coleman Foundation, The Burton D. Morgan Foundation, Holthouse Foundation for Kids, Junior Achievement, and the members of the conference host, the Consortium for Entrepreneurship Education.
A Word To All Educators - Don't miss this outstanding professional development opportunity. You can include entrepreneurship experiences in any classroom as part of the lifelong learning process. Conference attendees will share their ideas for developing entrepreneurial skills and motivating students to pursue their own personal dreams. Learn all about the conference online at http://www.entre-ed.org/_network/forum.htm.
###